Holby City's John Michie: 'Guy's a dangerous character who's never been risk averse!'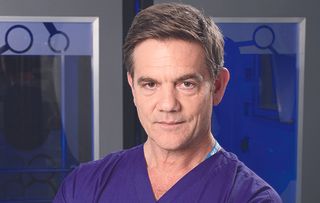 (Image credit: BBC/Kieron McCarron)
Jac Naylor needs an urgent op... and neurosurgeon Guy Self is the man who returns to do it! But, as John Michie, explains, Guy once again is taking some huge risks...
John Michie on why Guy Self returns to save a Holby City favourite…
Brace yourselves Holby fans… maverick neurosurgeon Guy Self is back on the wards this week!
Guy, played by former Coronation Street actor John Michie, left Holby last year after suffering a serious mental breakdown. Following an alcohol-fuelled outburst at his daughter Zosia's wedding, Guy then tried to take his own life… twice!
Back then, fiery surgeon Jac Naylor (Rosie Marcel) brought Guy back from the brink. So, as her own life hangs in the balance this week, and an experienced neurosurgeon is needed to operate, Guy steps up to the plate.
Away from Holby, John suffered great tragedy in his personal life last year when his 25-year-old daughter, Louella, died suddenly at a music festival. In an exclusive interview with TV Times, John, 62, reveals all about his Holby City return…
Why is Guy so keen to operate on Jac in this week's Holby City?
"Well, Guy's life was saved at Holby, primarily by Jac, so he feels he has this huge debt to pay. But, of course, Guy also has a massive ego! So there are two things at play here; partly Guy feels he needs to pay back and make amends for his behaviour when he was last at Holby – but he'll also always be an egotistical, arrogant surgeon, so he wants to get his own life back on track."
But is Guy mentally well enough to perform such a risky, high-pressure operation?
"Guy's been to therapy and is dealing with his alcoholism but we discover, in a private phone call to Zosia, that he recently had a setback. So he's not completely mentally stable yet but he's arrogant enough to believe that he's stable enough to do this operation. Yes, it is risky – but Guy's a dangerous character who's never been risk averse!"
So Guy almost needs to perform this surgery to prove he's still 'got it'?
"Definitely! There's no doubting his desire to save the life of the woman who saved his life but, of course, he needs to prove he can still do this because the fact is, if he didn't have his work, he would disintegrate. This man is just obsessed with work; without it he's nothing. Part of his recuperation – getting away from the booze and sorting out his mental health issues – is to work.
Was it nice returning to Holby?
"It's always nice to go back and I'm still friendly with lots of the people who are in it or who used to be in it. I occasionally see Hugh Quarshie (Ric Griffin), Jemma Redgrave (Bernie Wolfe) and Chizzy Akudolu, who also returns as Mo Effanga in this episode. And it was great to do just a one-off episode; it's a very short, sharp story with lots of interesting scenes, which I enjoyed. I'm sure I'll be back again at some point. When? I don't know."
Away from work, you're in the TV Times running team, to raise money for the charity Bloodwise. Is it something you really enjoy?
"I do but I haven't done it for quite a long time for various family reasons. But I am still on the team and I intend to do a 10k run next. I ran the London Marathon for them five times in a row but ended up with a few injuries, so I stopped the marathons and I'm gonna ease my way back in with a 10k. And once I've finished chatting to you I'm off to yoga!"
Yoga?
"Yes! I've been doing yoga on and off for 30 years and I find it really does clear my head. It's almost like moving meditation really. For all that acting is a wonderful business when you're working, it's the in-between times that you need to keep your head together. And yoga is what really helps me."
What's next for you?
"I'm doing panto this year playing Captain Hook in Peter Pan at the Aylesbury Waterside Theatre in Buckinghamshire. This is my first big, commercial pantomime, so I'm looking forward to it. It'll be a new experience and should be a lot of fun. I'm planning to put the dark side of Guy Self into Captain Hook to make him as evil as possible!"
Holby City continues on Tuesdays at 8pm on BBC1.
Get the latest updates, reviews and unmissable series to watch and more!
Thank you for signing up to Whattowatch. You will receive a verification email shortly.
There was a problem. Please refresh the page and try again.