Holby City star Chizzy Akudolu on Mo's SHOCK return: Mo's here to save Jac!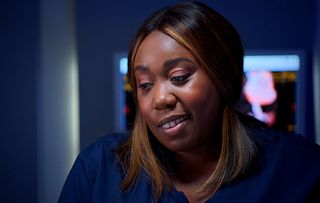 (Image credit: BBC)
With Jac Naylor at death's door, a familiar face turns up on Darwin determined to help save her... it's the one and only Mo Effanga! Chizzy Akudolu reveals all about her timely return...
Holby City legend Chizzy Akudolu reveals to us how popular heart surgeon Mo Effanga returns to help save the day…
What brings Mo back to Holby?
"Jac's heart is failing, and Mo comes to help save the day. Mo hates seeing her friend lying there at death's door and, if anyone can save Jac, it's someone who's been taught by her. So it's an honour for Mo in a way."
Mo's thrown back into working with Guy Self (John Michie), who's back following his breakdown last year. What's that like for Mo?
"It's familiar territory but Mo knows what 'Selfie' is like, she's a bit wary of him. But this is business, basically, so she's got to put her emotions to one side and just get on with it. Guy was one of the reasons Mo's best mate Jonny [Jac's daughter Emma's dad] left Holby but Mo has to put all that to one side because Jac's life is more important than a petty feud."
We love Mo's spirit during theatre. Even in a crisis, she's got good banter…
"Yeah, she has. I think that's Mo all over. There's always some kind of fun behind the darkness. I love Mo because there's a freeness about her and she has that Gallow's Humour, which I hear a lot of doctors have, because they're dealing with life and death all the time."
Guy and Mo battle to bring Jac back from the brink, and Mo's thrilled when her old friend wakes…
"Mo and Jac have had a complicated relationship but there's definitely a mutual respect there. Mo is one of the few people who've ever managed to get under Jac's skin; Mo knows there's a big heart under Jac's brash exterior and she does really care for Jac a lot."
There's a lovely moment where typical Jac says to Mo: 'Please don't hug me!'...
"Yeah! Ha, ha! What's really lovely is that when Jac wakes up, she takes Mo's hand, and you see they have that unspoken relationship. Jac knows Mo would grab her and be crying and kissing her all over her face yelling: 'You're alive!' But then they'd probably just go back to sniping at each other again."
With Jac likely to be out of action for several weeks, Fletch (Alex Walkinshaw) asks Mo if she'll take charge of Darwin ward in her absence. How does she feel about that?
"Mo relishes the thought of running Darwin again and it's definitely come at a good time in Mo's life. This time she can make sure it doesn't overwhelm her because she's had those opportunities before but things have gone wrong where it's just been too much. But this is the right time for her; she's not pregnant, she's got no real issues going on with her relationship, so she's happy to step in."
And have you enjoyed coming back yourself?
"I've loved returning to Holby as Mo – it really felt like coming home. I kinda felt it would feel like I was going backwards but because it was a short stint, it just felt like a lovely little visit. I'm back for six episodes and the Christmas episode is my last one. I love Mo and I wish I could play her forever but I know I can't. You have to move on."
So what else have you been up to then – and what are doing next?
"I'm still doing Loose Women. I've been doing a few gameshows, which have been fun, and I've been hosting quite a bit. And, next, I'm doing a film. I'm still planning an LA trip at some point but I feel there's work happening here, so I just don't know when I'm gonna go. So, things feel exciting and I'm very pleased with how my career is going. And the door is open on Holby, so I can pop back."
You've talked candidly on Loose Women about your many personal struggles. Are you happy in yourself at the moment?
"Yeah, I am happy. I've started to love myself a bit more; by that I mean just taking time for myself. My mental health suffered a little bit recently but I think that's always gonna happen; it's just about dealing with it and moving on. So things are really good. I'm in a very, very good place. And my cat still loves me, so that's good!"
Holby City continues Tuesdays at 8pm on BBC1.
Loose Women pic: S Meddle/ITV/REX/Shutterstock
Get the latest updates, reviews and unmissable series to watch and more!
Thank you for signing up to Whattowatch. You will receive a verification email shortly.
There was a problem. Please refresh the page and try again.