Holby's Chizzy Akudolu: 'Mo's adamant she did NOT hurt her son!'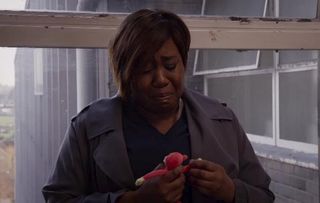 When her baby son Hector is brought to Holby City with unexplained injuries, Mo faces accusations that she caused them! Chizzy Akudolu tells us how the story unfolds...
Facing accusations of harming her baby son, Holby City surgeon Mo Effanga is determined to prove her innocence, as Chizzy Akudolu reveals…
Mo was left devastated recently when heart patient, Trixie, tragically died just after her premature baby daughter had been delivered by Caesarean. How's Mo coping now? "With Mo being a new mum herself, to Hector, she and Trixie had grown very close. Trixie was a real force of nature; she was good at her job and very driven, just like Mo. Even though Trixie's death wasn't her fault, Mo feels a little responsible, mainly for her baby, Elsie, because she's now all alone in the world. So Mo's been feeling really stressed and tired, which is also why she turned down the Head of CT promotion last week."
This week, Mo's son Hector is rushed to Holby – what are the circumstances around him being brought in? "Hector's been crying all night and Mo thinks it's just Hector being Hector. But when she hands him over to his dad, Mr T, to look after while she goes to work, he hears something in Hector's crying and rushes him into the hospital, where Jac Naylor listens to his chest. Jac then discovers Hector has fresh bruising and a CT scan reveals he's got a broken rib."
With Mr T (Ben Hull) in a panic, Jac (Rosie Marcel) tries to find out what's wrong with Hector
How do Mo and Mr T think Hector sustained his injuries? "Hector's only been with Mo overnight, so Mr T begins to wonder whether she may have injured him by accident and confronts her. Mr T tells Mo she hasn't been herself since Trixie died, but Mo's adamant she did NOT hurt her son. Mo thinks Hector could have brittle bone disease. But when his test results come back negative, it seems there's no other explanation and, after a lot of soul-searching, Mo concludes that she must have dropped Hector and can't remember doing it!"
Surely Mo wouldn't hurt Hector, even accidentally. Is she able to prove her innocence? "Of all people, Jac's pretty much on Mo's side throughout. Over the last few months Mo and Jac have become, I wouldn't say friends, but they've grown to have a lot of respect for each other. Jac doesn't believe Mo could have hurt Hector at all and comes to the rescue."
Worried parents Mo and Mr T feel helpless as their vulnerable baby son undergoes tests
Does this mean Mo, Mr T and Hector can go back to playing happy families? "Not really. Mo's struggling with the fact that Mr T made her believe she could have hurt her own son – as far as she's concerned, he should have been adamant she was innocent. For her, the trust has gone. Mo assures him she won't stop him seeing Hector, but thinks it would be best if they split up. Poor Mr T, he's been through so many ups and downs with Mo and, once again, he's left a broken man. Will they reunite? You'll have to wait and see."
Watch as the story unfolds in Tuesday's Holby City, at 8pm on BBC1.
Get the latest updates, reviews and unmissable series to watch and more!
Thank you for signing up to Whattowatch. You will receive a verification email shortly.
There was a problem. Please refresh the page and try again.