Holby's Rob Ostlere: 'Arthur realises what's important about life… and what's important to him!'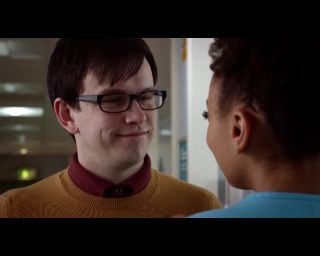 Knowing he has just months to live, cancer-stricken Arthur and wife Morven are all set to go on a tour of Europe when Arthur has a change of heart, as Holby City's Rob Ostlere reveals…
Dr Arthur Digby recently learned his cancer was terminal and he had just months to live. Is that why he and wife, fellow medic Morven (Ellie Fanyinka), decide to go travelling around Europe this week?
"Arthur's having to leave Holby because his hands are shaking too much now, so he can't do his job anymore. Meanwhile, Morven's stressed about work when one of her patient's dies. At that moment, they both decide: 'Let's be impulsive and go away for a few months!'"
How does good friend Dominic Copeland (David Ames) react when he finds out Arthur's planning this major trip?
"Dom's upset when he hears that Arthur's going away with Morven for three months as, given his prognosis, they might never see each other again. He's a bit put out – but not in a selfish way, he just wants to spend some time with his best friend, which is understandable because they've grown so close."
As Arthur prepares to leave Holby, does he reminisce about his past at the hospital?
"Yes! As part of his cancer treatment, Arthur's taking the drug Tramadol, which affects a person's thoughts. So, this is actually a slightly different episode of Holby because we filmed some dream sequences, so parts of it are quite surreal. I can reveal that some characters from Arthur's past come back and there are some other surprises, too!"
Does talking to Dom and revisiting his past prompt Arthur to have second thoughts about going travelling?
"Definitely. Arthur's still trying to work out who he is as a person, where he fits in and what he wants out of life. But as he tries to figure out how to live out his last few months, he soon realises that life is not about having to prove anything or going off travelling just because you think you should."
So do we see a change here in Arthur as a person?
"Arthur's always been very closed-minded about certain things and, suddenly, he opens up emotionally and reveals a different side to himself. Arthur develops a real sense of freedom through realising what's important about life… and what's important to him."
And what IS important to Arthur?
"Morven. This is a love story more than anything else because it's about Arthur and Morven discovering each other, and discovering how important love is and how important the people you love are. Finding Morven has completed Arthur's life."
Holby City continues Tuesdays at 8pm on BBC1.
Get the latest updates, reviews and unmissable series to watch and more!
Thank you for signing up to Whattowatch. You will receive a verification email shortly.
There was a problem. Please refresh the page and try again.