Holby's Wendy Kweh reveals Amy's pregnancy bombshell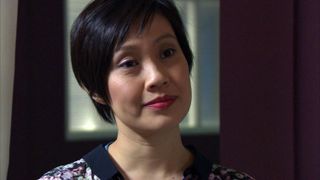 She's having a baby - but is Raf or Harry the daddy? Actress Wendy Kweh reveals that Holby pharmacist Amy is not sure...
What's the mood been like between Amy and Dr Harry Tressler (Jules Knight) since they slept together a few weeks ago?
"Amy's been avoiding Harry because she feels such guilt over what she did. Harry was there when Amy was feeling at her most vulnerable - she was going through IVF and had argued with her registrar husband Raf (Joe McFadden) - and she made this terrible error of judgement."
At the start of Tuesday's episode, Amy doesn't feel right in herself. What's the problem?
"Amy's trying her best to play happy families with Raf, ignore Harry and just get on with life. But that day, Amy's feeling really emotional and a bit queasy which, while she can't be sure, causes her to suspect she might be pregnant. So Amy does a test - and it's positive!"
Amy has wanted to become a mum for so long - surely she's chuffed to discover she's finally pregnant?
"Amy really wants to have a baby but the first thing she considers when she sees that positive result is: 'I'm going to lose Raf'. Amy might be pregnant now, but all she's really concerned about is protecting her relationship with her husband."
Amy tells Raf straight away that she's pregnant - why?
"You hear lots of miracle stories of couples who've had IVF or who may have had to consider sperm donation and Amy's clinging onto that hope - that one of Raf's swimmers has finally made it past the finish line. So, she's fearing the worst.... but hoping for the best!"
Meanwhile, Harry makes it clear to Amy that he'll keep their affair quiet... if she helps him work closer with Raf so that he can step up the career ladder...
"Amy truly thought Harry was a friend, but she feels stupid for falling for his nice bloke act when he starts to use their 'indiscretion' to his advantage. Amy quickly realises that, in spite of his posh education, Harry's not going to be a gentleman about things."
Amy wants to leave Holby but Raf reckons, for the baby's sake, they should stay put. Will Amy struggle to keep her 'secret' secret?
"Amy's not a very good liar, but now the game-playing has to begin. In the coming weeks, Amy has to do some pretty smart manoeuvring!"
Get the latest updates, reviews and unmissable series to watch and more!
Thank you for signing up to Whattowatch. You will receive a verification email shortly.
There was a problem. Please refresh the page and try again.