Is Goldie about to rumble Peri's fake pregnancy in Hollyoaks?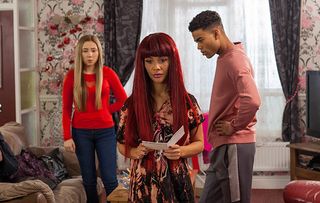 She's back in Hollyoaks but is she about to discover Peri's whopping baby lie?
Goldie is back in town but she's furious when she discovers the mess that her son Prince has got into when she learns that Peri is expecting his baby.
The McQueen mum, who has been on the run ever since taking the blame for the robbery at the Lovedays, wants to know exactly what's been going on while she's been away but is she about to rumble that Peri is faking her pregnancy to keep a grip on Prince? Uh oh! [check out the latest Hollyoaks storylines].
Meanwhile Jesse is delighted to see Goldie back in town but is panicking about his rapidly-approaching court date for smuggling drugs into the UK!
What will she say when he suggests the pair of them go on the run together? Will she be fleeing Chester after only just arriving?
Is Goldie about to rumble Peri's fake pregnancy in Hollyoaks?
Goldie can't believe that Peri is expecting Prince's baby but her suspicions soon go into overdrive
When Goldie finds Peri's ultrasound scan pictures she immediately smells a rat
Has she worked out that Peri has been faking her pregnancy all along. As she confronts both Peri and her son Prince, what will she have to say?
Elsewhere, Jesse is panicking about his forthcoming trial date and confides in his brother Adam
However he's in for a big surprise when Goldie shows up unexpectedly at the salon
Jesse is delighted to see her and the pair are soon catching up
But how will Goldie react when Jesse suggests to her that they go on the run together! Will they decide to flee Chester together or will Goldie have other ideas? Watch the drama unfold in Hollyoaks from Monday 5 Feb on Channel 4
Get the latest updates, reviews and unmissable series to watch and more!
Thank you for signing up to Whattowatch. You will receive a verification email shortly.
There was a problem. Please refresh the page and try again.