Darren and Jack take a big gamble in Hollyoaks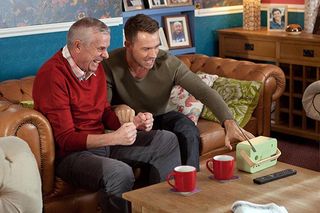 Darren's dad Jack has some dodgy debts. But when Nancy finds a threatening note from someone demanding their money back, she suspects it her ex-husband, Darren, has started gambling again and confronts him.
Darren knows he has to help his dad, who has been in financial trouble since losing family pub, The Dog, last year. But what can Darren do to solve Jack's money troubles?
Darren tempts fate by getting a betting tip from one of his old gambling buddies. He and Jack place a bet on a horse and then listen to the race on the radio, hoping they will strike it rich!
Darren and Jack are anxious as the race results come in. They've taken a big gamble and risk losing a whole lot if their horse doesn't win. Fingers crossed!
Is it time to celebrate? Darren is excited when he and Jack appear to be on a winning streak. However, is Nancy right to worry that Darren's gambling addiction could return?
Can Darren help Jack get the debt collectors off his back? Or is there more trouble to come? Find out in Hollyoaks on Wednesday 2 March on Channel 4 at 6.30pm.


Thank you for signing up to Whattowatch. You will receive a verification email shortly.
There was a problem. Please refresh the page and try again.