Diane Hutchinson can't keep murder secret says Hollyoaks' Alex Fletcher!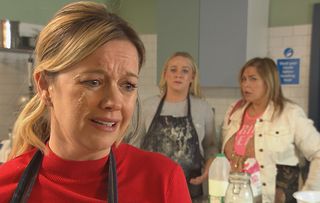 Diane Hutchinson tries to forget her marriage is crumbling by organising a bake sale. But swallowing Tony's lies is tough, says Hollyoaks' Alex Fletcher…
It wasn't exactly the best of Christmases for Diane Hutchinson and now husband Tony is sleeping in the spare room and she feels very much alone… and so miserable she has a breakdown over some cakes!
What's the story?
Diane Hutchinson shopped her own son for rape, so will she keep the knowledge that Tony's son Harry Thompson killed Amy Knight a secret? "I don't think she can keep her mouth shut," actress Alex Fletcher told Soaplife. "The relationship with Tony is fractured." Is there any way back for Diane and Tony?
What's happening in Hollyoaks? Read the latest soap storylines
Alex Fletcher tells Soaplife why Diane Hutchinson has a breakdown over baking cakes in Hollyoaks…
Soaplife: How is Diane feeling about life?
Alex Fletcher: "Not great. Her marriage is in tatters and it's the anniversary of Lily's mum's death and Diane is worried it might trigger her self-harming."
SL: What does she plan to do to help Lily?
AF: "She wants to keep her away from Prince. She doesn't blame him for Lily's self-harming, but she's worried he might upset her. He's slept with two of her best mates, so Diane thinks he's a bad lad. She manages to convince Lily to take a break from the relationship."
SL: Why is Diane fundraising?
AF: "It's a smokescreen really. She wants everyone to think her life is okay when in reality it's crumbling. It also helps to take her mind off things. She's raising money for the school library and she puts on a bake sale."
SL: How does it go?
AF: "It's a disaster. The cakes are horrific and a load of mixture falls on the floor. Diane breaks down in front of Leela Lomas and Myra McQueen and they're a bit shocked that she's having a mental breakdown over some cakes. She loses the plot big time. It's quite sad actually. Diane hasn't done anything wrong. She's just trying to be there for everybody and she has nobody to turn to."
SL: Can Diane make it work with Tony?
AF: "I'm not sure. The trust has gone. She thinks Tony should have told her the truth about Harry. It would have explained a lot. He was behaving strangely and she thought he was having another affair."
SL: Would you like them to make it?
AF: " I would. Tony actor Nick Pickard is such good fun to work with. He doesn't take life too seriously and he provides some much-needed light relief in between scenes when we're dealing with heavy issues. However, every time a new fella comes into the village, I think they might be good for Diane. She's got a bit of a twinkle in her eye for Glenn Donovan."
SL: Will she tell the police that Harry killed Amy?
AF: "She handed her own son into the police, so I don't think she'd be prepared to keep it a secret. Tony knows what she's like and that's why he didn't want to tell her the truth."
SL: What's in store for Diane?
AF: "It looks like 2018 is very challenging at the start. I'd love her to go on holiday and have a bit of a laugh."
Get the latest updates, reviews and unmissable series to watch and more!
Thank you for signing up to Whattowatch. You will receive a verification email shortly.
There was a problem. Please refresh the page and try again.