Did twisted teen Nico Blake die in the blazing Hollyoaks maze?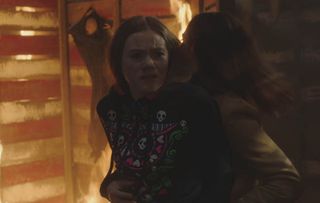 Nico Blake may have perished in a fire in Hollyoaks' Halloween drama after Cameron sought revenge by starting a fire in the funfair maze
Serial killer teen Nico Blake appears to have died in the fire in the Hollyoaks Halloween funfair maze.
During tonight's Hollyoaks on E4 (which screens on Channel 4, Tuesday at 6.30pm) viewers saw Cameron Campbell set fire to the fairground maze, knowing Nico Blake was inside and wanting revenge on her for almost killing his daughter, Peri.
However, he was unaware that Nico's mum Sienna had followed her into the maze too.
Sienna was released from prison this week after taking the blame for killing her father, Patrick Blake, and was desperate to find the real murderer, Nico, before the police did...
Nico has also killed Trevor Royle and Carly Bradley.
Meanwhile, Cameron had put to malicious use a fire stick abandoned by Jesse Donovan, and started a blaze in the maze in full knowledge that Nico was inside.
Sienna found Nico in the closed maze and Warren realised Sienna was trapped inside after the fire started. He raced into the centre of the maze to find Sienna and Nico trapped underneath some fallen debris. Despite Sienna's pleas to save her daughter first, Warren rescued the woman he loves, Sienna.
The episode ended with Warren pulling Sienna back from the inferno as the crowd watched the maze collapse with Nico still inside. Did she live or die?
Watch Anna Passey and Jamie Lomas talking about the Hollyoaks blaze.
Watch Hollyoaks on E4 at 7pm on Tuesday, November 1 to find out.
Get the latest updates, reviews and unmissable series to watch and more!
Thank you for signing up to Whattowatch. You will receive a verification email shortly.
There was a problem. Please refresh the page and try again.