Emmett Scanlan: Brendan and Ste aren't finished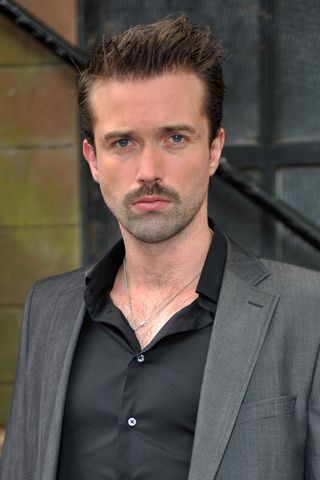 (Image credit: Lime Pictures)
Hollyoaks actor Emmett Scanlan has hinted that things aren't over between Ste Hay and his character, bad boy Brendan Brady. The couple - known to fans as Stendan - had a stormy relationship before Ste, played by Kieron Richardson, found love with Doug Carter. However, Emmett admitted, "Stephen is Brendan's one true love. The Ste and Doug thing, if Brendan really loved him he would let him go and pine from afar. "It's his punishment for all the wrong that he did because he had him in the palm of his hand and he messed it up every time. I don't think he'll ever let go of Stephen and I don't think it's the end of Stendan either." Brendan is set to feature in the new series of Hollyoaks Later, which begins on E4 at 10pm on September 17 - with the episodes offering some insight into his troubled past. "I think the best way to understand the man is to get down to where he's come from as a child, and Later definitely shows why Brendan has become the man that he is," Emmett said. "It's a dark past, he had a very different childhood to Cheryl, even though they share a father. It explains why he may not be the father that he should be, why he can't be the best brother that he should be and why he can't be the lover that he should be to Stephen." He added that producers were always open to suggestions he had about his chatacter "The writers' room is always open," Emmett explained, "so if you have any questions or if I wanted to pitch a certain idea there are no egos, there's nothing except a united want to make this the best that it can be, and that's what I absolutely love about Hollyoaks."
Get the latest updates, reviews and unmissable series to watch and more!
Thank you for signing up to Whattowatch. You will receive a verification email shortly.
There was a problem. Please refresh the page and try again.