Hollyoaks car crash! Can Holly and Robbie or Nathan and Rachel have a happy ever after?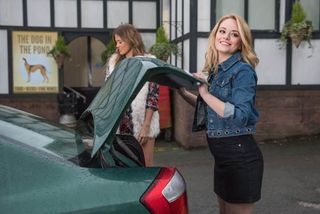 Channel 4 viewers of Hollyoaks on Good Friday saw Holly (Amanda Clapham (opens in new tab)) being told by Freddie (Charlie Clapham (opens in new tab)) that she has to give up the man she loves, Robbie (Charlie Wernham (opens in new tab)), for the sake of his twin Jason (Alfie Browne-Sykes (opens in new tab)), who loves her.
And, to give Jason back his brother, Holly lied and told Robbie she had slept with Jason.
Channel 4 also showed broken-hearted Rachel (Jennifer Brooke (opens in new tab)) packing alone for a trip to South America after Nathan (Jared Garfield (opens in new tab)) dumped her for lying to him about little brother Alfie's cancer.
Any fans who then switched straight to E4 for first-look Hollyoaks saw how all this heartache became an even bigger tragedy… If you want to find out for yourself in Monday's C4 episode, stop reading now!
Rachel's bags are packed and she's ready to leave with Nathan
Nathan and Rachel made up and took off for their trip of a lifetime.
Robbie said he was leaving and Jason said he was going with him – to South Africa.
It looked like the only loser would be Holly…
Then they all started getting into cars and you just knew that trouble was right around the corner.
Holly has a few drinks. Jason phones and tells her to get to the airport for Robbie. With Cleo's encouragement, Holly jumps in a car with her and races to the airport. They get there in one piece, too.
But the journey home is an accident waiting to happen – and it comes in a devastating crash…
Holly drinks, then she drives, then she crashes and is faced with the horror she's caused
Nathan and Rachel's car they're driving to the airport has broken down… Nathan's standing outside the car when Holly smashes into them. But Rachel's inside…and she's trapped.
Fans can see all the horror in Hollyoaks (opens in new tab) on C4, Easter Monday, 6.30pm.
To see what happens afterwards, watch first-look Hollyoaks on E4, Easter Monday, 7.00pm.
Our sneak preview picture reveals Nathan desperately trying to free unconscious Cleo (Nadine Mulkerrin (opens in new tab)) before the car is crushed by a toppling tower. But where's Rachel?
Can Nathan get Cleo out of the car before it is crushed?
Thank you for signing up to Whattowatch. You will receive a verification email shortly.
There was a problem. Please refresh the page and try again.