Hollyoaks' Emmett: 'Brendan wants his dad dead!'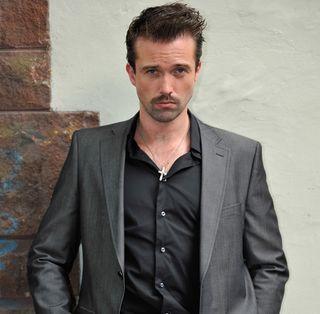 Hollyoaks' Emmett Scanlan talks murder with Soaplife as he reveals how bad boy Brendan sets about having his evil father killed... by Joel. Brendan reckoned killing dad Seamus, the man who sexually abused him, was a necessary evil - but he couldn't do the deed himself so he paid Joel to do it. "Now Seamus is missing and Brendan is busy comforting his sister Cheryl," says Emmett. But could this be another brilliant Hollyoaks twist? Is Brendan actually celebrating way, way too soon? Seamus turning up in Hollyoaks was a shock for Brendan, wasn't it? "It was a punch in the gut! Once Brendan had reunited with Ste in Dublin it felt like an exorcism of his past. You could see him being ready to move on. Seamus in Hollyoaks means Brendan's back to square one." Did Brendan decide he wanted his dad dead as soon as he saw him? "No. There's too much fear there for Brendan. He's still scared of the man who raped him as a child. There's also Cheryl to consider. She thinks the sun shines out of Seamus's you-know-what. Her and Brendan's childhoods were vastly different. Brendan doesn't want to ruin his sister's happy memories." So when did Brendan decide to have his dad killed? "Seamus kept making all these comments under his breath, like 'Poof!' He was embedding himself into life in Hollyoaks and Brendan realised just how much he hated this man and how he needed to get him out of the way." So why give Joel the job of killing Seamus? "Brendan reckons Joel owes him and that's how he manipulates him into doing it. Brendan also knows Joel wants to leave Chester so he offered him £200K - his share of the club - to get rid of his father." And Brendan thought his murder plan was foolproof? "The plan was put together very meticulously with no room for error. Seamus is a massive gambler so Brendan gave him a tip to get him out of the house then let Joel know where he would be. When Seamus fails to return, Brendan reassures Cheryl by reminding her that Seamus often goes AWOL when he's been gambling and drinking." And now he plans to start a happy new life with Ste... "That's his intention. He wants to move on, be a good partner to Ste and a good brother to Cheryl. But that would be impossible with Seamus still around." How would Brendan feel if Seamus was somehow still alive? "It's wrong to say Brendan is ecstatic about getting his father killed. It was a necessary evil. But if Seamus were to survive it would be a total catastrophe for him. God knows what he might do!"
Get the latest updates, reviews and unmissable series to watch and more!
Thank you for signing up to Whattowatch. You will receive a verification email shortly.
There was a problem. Please refresh the page and try again.