Hollyoaks' Nikki Sanderson: 'Patrick will blame Maxine if the baby has Down's!'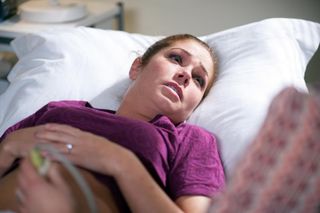 Hollyoaks (opens in new tab)' Nikki Sanderson (opens in new tab) reveals to Soaplife the strain Maxine's under as she waits to find out if her unborn baby has Down's syndrome - and why she's sticking with the abusive Patrick!
How does Maxine feel about her pregnancy?
"She's pleased about being pregnant. She wants to be a mum, but she's scared. Does she really want to bring another life into this misery?"
What if her baby does have Down's?
"Maxine will love her baby whatever. She would see her child and not the disability. Of course she's concerned, any mother would be, but she will love this baby whatever."
And Patrick?
"Maxine hasn't told him that doctors have concerns. She knows that he wants a perfect child and he'll blame her if the baby has Down's."
Why is she marrying him? He's a brute!
"It's fear. Things aren't going well with Patrick and Maxine thinks that if she announces a surprise wedding, he will be happy and stop hurting her. It doesn't work."
Well, that's predictable. Why doesn't Maxine just leave him?
"She has nowhere to live, no friends and no money. There are people around to support her, but she can't see that and isn't reaching out. Also, every time Patrick promises that he'll change, Maxine believes him."
Dodger is there, ready in the background. Is he the man Maxine really loves?
"She wants to be with Dodger and he wants to be with her, but there's always someone or something in their way. Being pregnant with Patrick's baby complicates things because Maxine doesn't want to take her child away from its father."
And then Dodger's accused of assaulting Holly…
"Well, it's a big drama. Dodger sleeps with Holly and Cindy suggests that Holly didn't give her consent. But Dodger swears he did no wrong. Maxine doesn't want to believe that of Dodger… He's everything she could wish for in a man."
Things are looking bleak for Maxine…
"Yes, and what's to come is very exciting for me as an actress. The great thing is, viewers seem to be enjoying her story. I get lots of tweets and messages. Loads of people want her to be with Dodger and say they would have gorgeous babies. They call us Daxine…"
Get the latest updates, reviews and unmissable series to watch and more!
Thank you for signing up to Whattowatch. You will receive a verification email shortly.
There was a problem. Please refresh the page and try again.