Hollyoaks star Alex Fletcher nervous about stripping off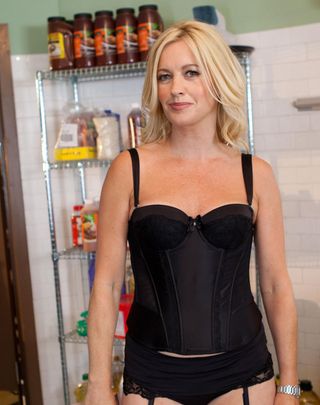 Hollyoaks star Alex Fletcher (opens in new tab) has said she was nervous about having to strip off for scenes where her character Diane O'Connor tries to reignite the spark with partner Tony Hutchinson.
Diane calls round to Tony's empty restaurant in just her underwear and a coat to try to inject some passion back into their relationship, but little does she know that her stepdaughter Sinead (Stephanie Davis (opens in new tab)) is having an affair with Tony (Nick Pickard (opens in new tab)) and is already there - and is forced to hide.
But Alex said her main worry about the scene was the outfit: "When I first read the scripts my reaction was, 'I'm not doing it'. It was that feeling of, 'Oh my God, I'm going to have to get my pins out'.
"But do you know what? I felt great. The wardrobe department were really good and got me a few different outfits to choose from and my hair and make-up was done, so I felt nice."
And how did she feel about being so, er, exposed in front of the crew?
"The majority of the crew are male," Alex said, "but I grew up with most of them when we were working on Brookside together.
"In the end I just convinced myself that I was wearing a dress and tried not to make too much of a fuss."
Hollyoaks (opens in new tab), Channel 4, weeknights at 6.30pm.
Thank you for signing up to Whattowatch. You will receive a verification email shortly.
There was a problem. Please refresh the page and try again.