Hollyoaks star reveals all on Louis and Leela's Christmas wedding: 'There's gonna be snot and tears'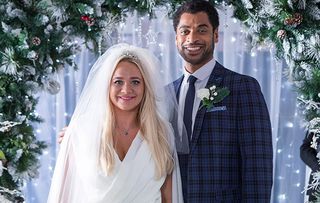 A happy ever after definitely isn't on the cards...
Christmas wouldn't be Christmas in Hollyoaks without a wedding, and this year Leela Lomax is set to tie the knot with Louis Loveday; father of her son Daniel. The blonde deserves some happiness after the recent tragic death of sister Tegan, and reckons Louis is the man to give it to her.
But little does she realise that not only has he been sleeping with ex wife Simone, but in the Summer he also secretly married Simone's sister, Martine, following a lusty liaison in Hong Kong.
In the run-up to the big day, Louis manages to get his marriage to Martine annulled, but when he has a goodbye frolic with Simone in Price Slice, they're spotted by son Zack, who encourages his mum to fight for her man. Is another soap wedding doomed for disaster?
We caught up with Hollyoaks actor Karl Collins, who plays Louis, to find out more…
Louis went to Hong Kong a solid, dependable man, and came back a love rat. What happened?
"I think there was something in the juice; it's perked up his libido somewhat! The thing is with Louis, he's always been a family man, but in his past, it came out that when his and Simone's daughter Lisa went missing, he was in bed with Joanne - so he's got it in him. He could've chosen one of millions of people in Hong Kong, but he came back with Simone's sister!"
Why did he accept Leela's recent wedding proposal? Does he have genuine feelings for her or was he just to weak to say 'no'?
"I think it's a bit of both. Whoever he's with, it's like they're the only person in the world for him. It's obvious that Simone was his true love, but he and Leela had Daniel. It brought them closer, but it's a forced situation.
"I think he looks at her and thinks she's having such a rough time, what with the serial killer ex husband, troubles with Peri and Harley, and Tegan's death and he wants to support her and care for her. So when she asked him to marry her, as much as he was in a fix and a quandary, he thought: 'This will be great for her; this is what she needs,' and in that moment, he got swept along."
What are his feelings for Martine?
"It was definitely a very lusty relationship. He climbed on the plane, ready to go to Hong Kong, and there was his sister-in-law, dressed gorgeously in her canary yellow flight attendant outfit. Maybe he saw the younger vibe that he had in his relationship with Simone years ago.
"I think he got caught up in the adventure with Martine and thought 'Stuff it, yeah, let's get married and not think of the consequences!' When he came back to the village, he thought 'I'm gonna cut all ties with Leela, I'm gonna live in a penthouse with Martine, she'll be flying around the world, and I'm going to get a job teaching rich Arab kids.' But then reality kicked in and he was like 'What the hell am I doing?!'"
So what happens with Simone and Louis in Price Slice?
"He basically says 'This is our final goodbye.' It's awful. I think that ultimately, he loves Simone more than anyone. Zack sees them and says to Simone afterwards, 'Go after what you want.' He realises that his mum and dad are meant to be together."
How does Louis feel on the day of the wedding?
"He wakes up and realises he's got to fulfil this path that he's on. He's obligated and I think he's broken-hearted. He's going into it really wounded. But I'm sure there won't be too many people crying over Louis' broken heart!"
What kind of wedding is it?
"They get married in The Hutch. It's very nice and Christmassy, there are big white baubles and things, and Leela looks gorgeous. It's a shame she's going into it blind."
So what happens at the ceremony?
"Louis tries to put on a brave face, and when he gets to the aisle, he's thinking 'Oh my God.' Everyone's looking at him, going 'This is amazing!' and he's trying to smile through his stone heart. "Then Zack and Simone arrive, and he's caught in the headlights. He doesn't know if Simone's going to scream 'That's my man!' or whether she's going to cry silently at the back. He's completely frazzled and torn, so there's a moment where you think 'Is he going to stay on his feet or pass out?' And Simone still has no idea about him and Martine; she's still in the dark about that."
We've been promised that the wedding will have "violence and tears." Can you tease what happens?
"Well, in true Hollyoaks fashion, there's a few punches thrown – not mine. Let's just say that Louis won't look good in the wedding photos! And he's definitely going to be doing some grovelling. There's going to be a lot of snot and tears – and blood and guts. And he might need his passport at some point..."
Hollyoaks continues on E4 and Channel 4.
Get the What to Watch Newsletter
The latest updates, reviews and unmissable series to watch and more!
Alison Slade has over 20 years of experience as a TV journalist and has spent the vast majority of that time as Soap Editor of TV Times magazine.
She is passionate about the ability of soaps to change the world by presenting important, issue-based stories about real people in a relatable way.
There are few soap actors that she hasn't interviewed over the years, and her expertise in the genre means she has been called upon as a judge numerous times for The British Soap Awards and the BAFTA TV Awards.
When she is not writing about soaps, watching soaps, or interviewing people who are in soaps, she loves going to the theatre, taking a long walk or pottering about at home, obsessing over Farrow and Ball paint.