Leela exposes Ryan and Ste's affair - the McQueen's house goes up in flames!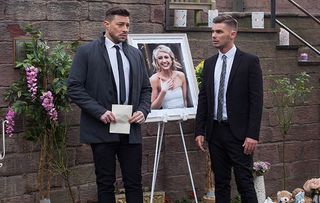 Ste and Ryan are reeling as their secret affair is exposed at Amy's memorial, plus the McQueens fight for their lives when the family home goes up in flames...
A vengeful Leah gears up to expose her dad, Ste's, secret affair with Ryan at her mum, Amy's, memorial service.
Having printed out screenshots of the text messages between the two lovers, she's on the verge of showing them to everyone but bottles it at the last minute.
However, Leela discovers the incriminating printouts and has no such qualms.
As Amy's memorial gets underway, a fuming Leela barges in and reveals Ste and Ryan's affair infront of stunned family and friends!
Elsewhere Hunter and Prince are delighted when their mum Goldie shows up, having finally been released from prison.
However the celebrations are short-lived and the McQueens are later battling for their lives when a terrible fire breaks out at the family home.
Who is responsible for starting the blaze and who is going to escape intact?
Ryan and Ste's affair is exposed by Leela at Amy's memorial
Ryan and Ste's affair is exposed by Leela at Amy's memorial
A fuming Leela storms the ceremony with evidence that Ste and Ryan are secret lovers!
DS Thorpe, who is there, watches on with interest, as the bombshell revelation causes a stir and Leela continues to make a scene
Leela has a pop at Ste who struggles to defend himself when presented with the printouts of his and Ryan's text messages
Elsewhere, Shane opens up to Simone and reveals he is massively in debt to Glenn which is why he's ended up drug-dealing
Meanwhile, Hunter and Prince are in for a surprise when their mum Goldie is released from prison
The boys welcome her with open arms but things quickly take a turn for the worse
Later on a raging fire takes hold of the McQueen's family home
Who has deliberately started the blaze and why have the McQueen's been targeted? Watch all the drama unfold in Hollyoaks from Monday 26 March on Channel 5
Get the latest updates, reviews and unmissable series to watch and more!
Thank you for signing up to Whattowatch. You will receive a verification email shortly.
There was a problem. Please refresh the page and try again.