Heath refuses to divorce Bianca in Home and Away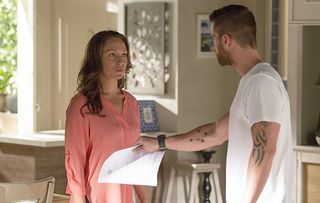 Bianca is determined to divorce Heath in Home and Away – but Irene is on a mission to help them save their marriage
Bianca wants Heath out of her life. She's had enough of his lies but Heath refuses to sign the divorce papers. As he fails to change his estranged wife's mind, devastated Heath hits the bottle. When Irene finds out Heath has started drinking again she pleads with Bianca to rethink her decision. Irene's words strike a chord for Bianca who reaches out to Heath to remind him what a great dad he is. But when Heath takes Bianca's words as a sign that she's changed her mind about divorcing him, he's sorely mistaken…
As hurt Heath lashes out, he goes on self-destruct. Meanwhile, Bianca's planning to return to the city. But will news that Heath has been rushed into hospital stop his angry ex in her tracks?
Bianca fumes when Heath refuses to sign the divorce papers.
Bianca fumes when Heath refuses to sign the divorce papers.
But Bianca is determined. She's had enough of Heath's lies and wants out of their marriage for good.
As the couple argue, bitter resentments rise and Bianca's reminded why it's all over for her and Heath.
Sick of fighting, Bianca feels hollow. She just wants to move on - without Heath by her side.
Wanting to help, Irene approaches Bianca wanting to talk about her and Heath.
Hurt, Heath goes on self-destruct much to Irene's concern.
Irene warns Heath that drinking his problems away won't help fix the situation with Bianca.
Concerned about Heath, Irene sets out to get Bianca to rethink the divorce. But will she succeed in saving the Braxtons' marriage? Watch Home and Away on C5 from Monday 13 February
Get the latest updates, reviews and unmissable series to watch and more!
Thank you for signing up to Whattowatch. You will receive a verification email shortly.
There was a problem. Please refresh the page and try again.