Will baby Luc survive in Home and Away?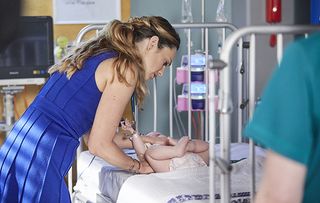 Ash and Kat rush baby Luc to hospital where Tori diagnoses a serious bowel issue which needs immediate surgery
Ash and Kat race to hospital in the car. Baby Luc's condition is deteriorating and the little girl starts fitting in her car seat. Tori acts quickly to diagnose the problem and discovers Ash's niece has a serious bowel problem which needs immediate surgery.
Unable to get the expertise needed in time, Tori undertakes Luc's operation herself… Will the baby make it?
Meanwhile, Kat beats herself up about not feeling anything towards Luc while Tori starts to feel a spark for heroic uncle Ash…
Tori gets straight to work when baby Luc is rushed in to hospital in serious distress…
Tori gets straight to work when baby Luc is rushed in to hospital in serious distress…
The doctor diagnoses a bowel problem which requires immediate surgery - but the paediatrician won't make it in time.
Ash and Kat reel as Tori explains she's going to have to operate on Luc to try to save her life.
Tori tries to reassure a very worried Ash.
After performing surgery, there are checks to be done…
Baby Luc has gone into sceptic shock and is put in an induced coma.
Ash struggles to hold it together as Tori tells him the next 24 hours are critical…
Leah joins Ash and Kat at Luc's bedside - while VJ appears to have vanished.
Luc's loved ones learn that her condition was inavoidable and a problem she would have inherited from birth. Question is, can Luc surmount it? Watch Home and Away on C5 from Monday 24 July.
Get the latest updates, reviews and unmissable series to watch and more!
Thank you for signing up to Whattowatch. You will receive a verification email shortly.
There was a problem. Please refresh the page and try again.