Tori dumps Riley as she learns he's sabotaged Nate's career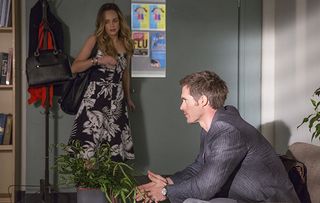 Tori finds out Riley has set out to damage Nate's career, and dumps him.
Following Billie's death, the medical board are looking into what happened in the lead up to the tragic event. Nate's being dragged over the coals about it and with his career hanging in the balance, Tori senses something fishy is going on and investigates.
Tori's horrified when she discovers Riley has thrown Nate under a bus to get him the sack. A bitter confrontation sees Riley forced to confess! Disgusted, Tori dumps him and warns Riley she never wants to see him again. Will he heed her words?
At the hospital, Tori is called to a meeting…
She's horrified to learn it's concerning Nate.
She's horrified to learn it's concerning Nate.
The hospital board is looking into Billie's death - and Nate who operated on the young mum is being hoiked across the coals.
Nate's career is now hanging in the balance.
Nate's problem is all thanks to a report from Riley…
Sensing something fishy is going on, Tori investigates.
She finds the report and has a look through the contents.
Tori finds a serious discrepancy and alerts Dr Chung!
Dr Chung realises Tori is right. With that, Nate is in the clear!
But Tori's not done yet…
She tracks down Riley and confronts him about the report.
Caught out, Riley admits he fudged the report in a bid to get rid of his love rival Nate. Disgusted, Tori dumps him! Will Riley go quietly? Watch Home and Away on C5 from Monday 24 April.
Get the latest updates, reviews and unmissable series to watch and more!
Thank you for signing up to Whattowatch. You will receive a verification email shortly.
There was a problem. Please refresh the page and try again.