Phoebe drops the L-bomb on Justin in Home and Away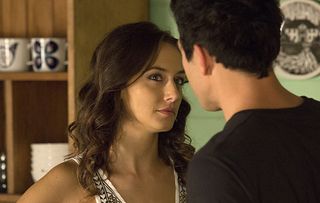 When Phoebe uses the 'L' word the reaction from Justin isn't what she'd hoped for in Summer Bay!
Phoebe and Justin grow closer in Home and Away, especially when Phoebe helps Justin and talks to Raffy, stressing to to the young girl how dangerous it would be to expose any of the Morgan family's secrets to anyone else.
Later on Justin drops in on Phoebe at the garage and tells her how grateful he was for her heart to heart with Raffy and also says he feels bad about her being caught up in his web of lies.
An understanding Phoebe shrugs it off and tells him she's fine with the situation and that she trusts him completely and as far as lies go, she knows she and he would never lie to each other.
As their conversation progresses Phoebe lays her heart on the line and in the heat of the moment tells Justin she loves him, leaving him lost for words. Oops, has she completely scared him off?
Phoebe lays her heart on the line and tells Justin she loves him.
Phoebe lays her heart on the line and tells Justin she loves him.
However the guarded Morgan brother doesn't exactly say it back!
It's clear his defences are up, but what's really going on his head and in his heart?
He tells Phoebe he can't do this and decides to make a quick exit.
Poor Phoebe is gutted and left pondering what on earth is going on. Is Justin just not into her? Has she got herself mixed up in way too much of the Morgan family's troubles and is any hope of a long-term relationship with Justin doomed? As an upset Phoebe turns to her friends Kat and Evie, a troubled Justin confides in Matt that he has never before in his life told any woman he loves them. Is it time he did? And if not, is he in danger of losing Phoebe? Watch Home and Away on Channel 5 from Monday, February 6.
Get the latest updates, reviews and unmissable series to watch and more!
Thank you for signing up to Whattowatch. You will receive a verification email shortly.
There was a problem. Please refresh the page and try again.