Carol Vorderman: I prefer to be single at Christmas so I can 'have a few occasionals'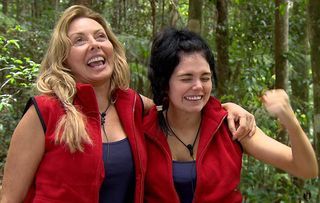 (Image credit: REX/Shutterstock)
TV personality Carol Vorderman had some interesting revelations about the state of her love life on I'm a Celebrity
Carol Vorderman made some interesting revelations about her love life on I'm a Celebrity, telling Scarlett Moffatt that she always dumps her boyfriends at Christmas so she can 'have a few occasionals'!
Hello! reports Carol confessing: "One of my boyfriends, I'd gone off him a bit and I decided to dump him before Christmas. They always get dumped by Christmas anyway… Christmas is party time, I don't think I should say any more. I prefer to have a few occasionals!"
She continued: "Anyway, the boyfriend said he was to leave my Christmas present anyway. In the box was two tickets for a weekend on the Orient Express, which I'd never done, but I'd like to. I know who I would like to take, someone who is very nice for a few little days here and there… Generally I am a rubbish girlfriend because I'm too independent and not romantic."
Carol was then asked if it was hard for her to find a boyfriend. "It is because… they tend to be high maintenance and they like a lot of attention, and I don't have time for it, so I prefer to have a few... A few occasionals suits me fine."
One of Carol's friends, Amanda Prowse, said she hoped Carol and fellow camper Joel Dommett, 30, iwould hit it off. "It feels like everyone wants to see Carol and Joel together," she said.
Meanwhile, another friend, actress Claire Sweeney, told the Sun. "Carol is a gorgeous women so it wouldn't surprise me if he fancied her. All men do when they meet Carol! She likes maths and he likes maths – she's a very intelligent woman so he'd have to be clever too.
"She just sits there next to all the younger girls, with no make-up on, and looks more beautiful than any of them."
Get the latest updates, reviews and unmissable series to watch and more!
Thank you for signing up to Whattowatch. You will receive a verification email shortly.
There was a problem. Please refresh the page and try again.