Christine | Rebecca Hall brings a tragic 1970s TV journalist to life with heartbreaking empathy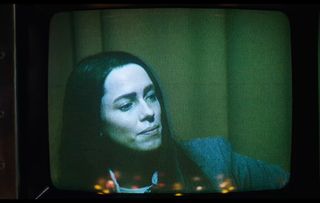 Rebecca Hall is heartbreakingly good in this sensitive drama about troubled Florida TV journalist Christine Chubbuck, who killed herself live on air in 1974.
"In keeping with Channel 40's policy of bringing you the latest in blood and guts, and in living color, you are going to see another first - an attempted suicide."
With these words, Florida local television reporter Christine Chubbuck pulled a gun from her bag and shot herself in the head in the middle of a news broadcast, creating grisly TV history live on air in July 1974.
Almost immediately, screenwriter Paddy Chayefsky took inspiration from her act for his 1976 satire Network, but it has taken another four decades for Chubbuck's story to be directly explored on screen.
Coincidentally, a pair of oddly synchronous but stylistically divergent films have now appeared at more or less the same time: Robert Greene's experimental docu-drama Kate Plays Christine, released last October, and now the more straightforward biopic Christine by director Antonio Campos and screenwriter Craig Shilowich.
"Heartbreaking empathy"
Chubbuck's motives remain, of course, unfathomable, but Campos and Shilowich create a sympathetic portrait of their subject thanks to an astonishing lead performance by Rebecca Hall. Her Christine is not, however, someone you would rush up to hug. Smart and driven, she is also abrasive, pushy and socially inept – qualities that Hall embodies in her performance with immense technical skill and heartbreaking empathy.
About to turn 30, she would like to get more thoughtful stories on air than the sensational coverage her ratings-chasing boss (Tracy Letts) at the local Sarasota TV station prefers. But she lacks the personal charm necessary to succeed, although some of her colleagues, including camerawoman Jean (Maria Dizzia) and news anchor George (Michael C Hall), go out of their way to offer support.
Christine, however, is her own worst enemy, prone to shoot herself in the foot, metaphorically, at every turn of her professional and private life before she comes to the point when she reaches for a literal gun.
Certificate 15. Runtime 119 mins. Director Antonio Campos
https://www.youtube.com/watch?v=v0itmG80oLI
Get the latest updates, reviews and unmissable series to watch and more!
Thank you for signing up to Whattowatch. You will receive a verification email shortly.
There was a problem. Please refresh the page and try again.