The Entity (1982) | Blu-ray release – The supernatural shocker electrifies in HD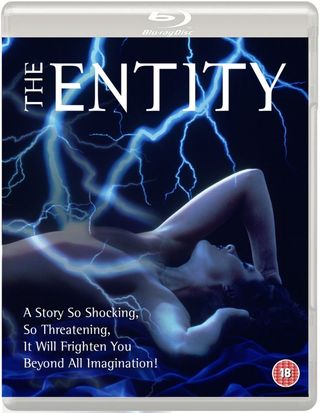 From Eureka Entertainment comes the Blu-ray release of supernatural terror tale, The Entity, starring Barbara Hershey.
Hershey stars as single mum Carla who, one night, is sexually assaulted in her bedroom by someone – or something – that she cannot see. Met with sceptical psychiatrists, she is repeatedly attacked in her car, in the bath, and in front of her children. Could this be a case of hysteria, a manifestation of childhood sexual trauma, or something even more horrific? Now, with a group of daring parapsychologists, Carla attempts a bizarre experiment: to seduce, trap and ultimately capture the depraved spectral fury…
Penned by Frank De Felitta, the author of the reincarnation thriller Audrey Rose, drawing on a real-life 1974 case in California, and directed by The IPCRESS File's Sidney J Furie, this deliberately provocative slice of horror hokum caused a protest when the film first opened in London cinemas. But, according to Martin Scorsese, it one of the scariest horror films of all time.
Whether you believe it or not, you'll be hard-pressed not to be gripped by the haunted happenings and by Hersey's genuinely moving performance (she's in nearly every scene). And while it certainly looks great in HD, the upgrade does, however, show up the so-so effects of the Entity when it's finally trapped – it reminded me of a giant-sized Mr Whippy ice cream.
Kudos, however, go to the pounding sound effects by Nightmare on Elm Street composer Elmer Bernstein, whose music can also be heard in Quentin Tarantino's Kill Bill and Inglourious Basterds.
Available to order from Amazon (opens in new tab)
https://youtu.be/YxPabRn_NY4
Get the What to Watch Newsletter
The latest updates, reviews and unmissable series to watch and more!