Edge of Darkness - Mel Gibson is back: older and wearier but still packing a punch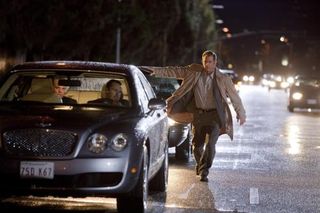 Mel Gibson is back in front of the camera in the thriller Edge of Darkness – the first time for seven years - and he looks older, wearier and more careworn than when we last saw him on screen. Well, he is older (he's now 54) and maybe all the turmoil he's been through recently – the high-profile divorce, the drunk-driving charge, the accusations of anti-Semitism and so on  - has worn him down. Or it could be that he's simply looking the part.
He plays a veteran Boston cop, a widowed loner who sees his only daughter gunned down by masked assailants on the steps of his home. Everyone takes it for granted that Gibson's Thomas Craven was the intended target, but he isn't so sure and begins digging into his daughter's life. He uncovers a murky world of nuclear secrets, eco-activism, corporate corruption and government cover-ups, and as his revenge mission gathers pace he goes head to head with Danny Huston's slick capitalist and Ray Winstone's shadowy fixer.
If all this sounds very familiar, it is. Edge of Darkness is a remake of the BBC's classic 1985 TV series, which was written by Troy Kennedy Martin, who died last year, and starred the late Bob Peck as the grief-stricken father. This is the second time in the space of a year that Hollywood has taken an acclaimed six-hour BBC series and tried to shoehorn the story into a two-hour movie.
Last year's State of Play made a pretty good fist of the task, but Edge of Darkness is much less successful. Director Martin Campbell actually filmed the original series, before going on to helm a brace of Bond movies, GoldenEye and Casino Royale, and he gives the action sequences here a hefty punch. Ramped-up action, however, isn't necessarily what the film needs.
The TV original, made at the time of Thatcher and Reagan, Cold War tension and nuclear deterrence, the miners' strike and Greenham Common, drew much of its power from its sense of political urgency. The new movie makes the odd nod to the neo-cons, but the story's more thoughtful nuances (including the idea of a father haunted by guilt and his daughter's ghost) are soon jettisoned for more visceral thrills as Gibson's remorseless avenger hunts down his foes.
On general release from 29th January. 
Get the latest updates, reviews and unmissable series to watch and more!
Thank you for signing up to Whattowatch. You will receive a verification email shortly.
There was a problem. Please refresh the page and try again.