Gumshoe (1971) | Blu-ray release – Albert Finney shines as a Sam Spade-styled sleuth in Stephen Frears' directorial debut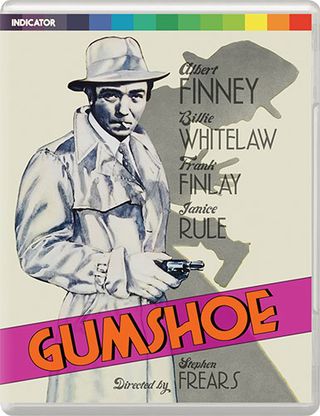 From Powerhouse Films comes the Indicator world Blu-ray premiere release of Stephen Frears' affectionate homage to the Hollywood detective movies of the 1940s starring Albert Finney
As soon as this offbeat 1971 crime comedy begins, it is quite clear that viewers are in for a treat. The opening music (by Andrew Lloyd Webber) and credit titles are superbly evocative of those 1940s detective thrillers that Gumshoe seeks both to spoof and celebrate.
Director Stephen Frears (making his debut here) perfectly conjures up this mood, from the moment we lay eyes on Albert Finney, who is simply marvellous as the deluded bingo caller plunged into a real whodunit.
Finney plays Eddie Ginley, a wannabe night-club comic who puts an advertisment in the Liverpool Echo newspaper offering his services as a private detective. As a result, he is summoned to a hotel and is handed a package, full of money and a photograph of a young girl. A sequence of unusual events then occurs, propelling Eddie into a murky mystery involving drugs and gun-running...
Featuring an intelligent script and a superb cast, including Billy Whitelaw, Frank Finlay, Janice Rule and Fulton Mackay, plus cameos from a young Wendy Richard and Maureen Lipman, and some nostalgic location photography of Liverpool, Gumshoe provided Finney with a multi-layered character that allowed him to show off his acting prowess – although his politically-incorrect language is still cringeworthy (just one of the reasons why this hasn't cropped up on UK TV). Still, if you can overlook that, this enjoyable pastiche is worth checking out.
The Powerhouse Films/Indictor limited edition release features a high definition re-master of the film with the original mono audio and new and improved English subtitles, and the following special features… • Interview with director Stephen Frears (2018, 18m): the director discusses how making Gumshoe was a huge learning curve in his film career • Interview with writer Neville Smith (2018, 16m) • Interview with producer Michael Medwin (2018, 2m) • Interview with editor Charles Rees (2018, 25m) • Interview with production designer Michael Seymour (2018, 3min) • Interview with actor Tom Kempinski (2018, 2 mins) • The Burning (1968, 32m): Frears' debut short, set in South Africa, is a thought-provoking statement on colonisation, which adapts a story by Roland Starke (who wrote the screenplay for David Hemmings' The 14) about a young boy joining his grandmother (Gwen Ffrangcon Davies) and her cook on an outing to a relative's farm. • Original theatrical trailer & VHS trailer • Gallery • 40-page collector's booklet
Get the What to Watch Newsletter
The latest updates, reviews and unmissable series to watch and more!