The Incredible Shrinking Man (1957) | The thrilling sci-fi classic on Special Edition Blu-ray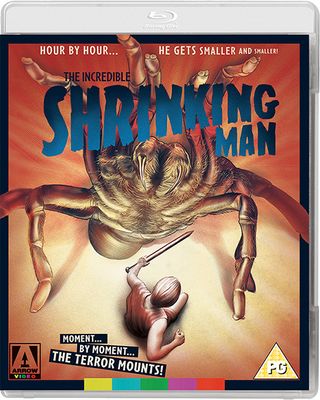 Scott Carey (Grant Williams) and his wife (Randy Stuart) are holidaying on a boat when Scott is briefly enveloped in a strange mist. Six months later, he discovers that his body is shrinking, an inch a week. Soon, Scott starts shrinking at an alarming rate, and before long he's thrust into a terrifying world battling his pet cat, a spider and other over-sized pitfalls…
Based on the 1956 novel (The Shrinking Man) by US writer Richard Matheson (I Am Legend), with a script adapted by Matheson himself, and directed by 1950s sci-fi king Jack Arnold (Creature from The Black Lagoon), this is rightly regarded as being one of the finest science-fiction films of all time, a critically-acclaimed smash hit that currently has a 90 per cent score on Rotten Tomatoes.
Genuinely thrilling, and, as Scott's plight becomes more desperate, tense and gruelling, the film features superbly realised special effects that bely the era, and the setting Scott finds himself in – filled with oversized household objects that suddenly become threatening and dangerous – takes on a wonderfully surreal atmosphere.
Arrow Video's UK Blu-ray debut features a documentary on Jack Arnold, the director behind Creature from the Black Lagoon and It Came from Outer Space; interview with Matheson's son, author Richard Christian Matheson; audio commentary; new sleeve artwork from artist and a collector's booklet; as well as a Super-8 presentation of the film.
https://youtu.be/zwHLEioidfU
Get the latest updates, reviews and unmissable series to watch and more!
Thank you for signing up to Whattowatch. You will receive a verification email shortly.
There was a problem. Please refresh the page and try again.