The Perks of Being a Wallflower - Shy teen blossoms with a little help from his friends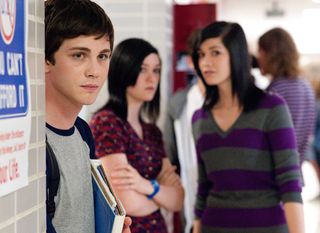 (Image credit: John Bramley)
Fans of popular novels often gripe when beloved books get turned into films, but lovers of 1999 bestseller The Perks of Being a Wallflower should have no complaint with this heartfelt screen adaptation - writer-director Stephen Chbosky just happens to be the book's author.
For those coming to the story for the first time, Perks belongs to that crowded genre the high-school coming-of-age tale and revolves around painfully shy student Charlie (Logan Lerman) as he grapples with his first-year of high school in 1991 Pittsburgh.
Still fragile following a period of mental turmoil after the suicide of his best friend, Charlie shrinks back from school life until he gets befriended by a pair of nonconformist seniors, stepsiblings Sam (Emma Watson) and Patrick (Ezra Miller), and unexpectedly begins to bloom.
This is a familiar enough story but it's made fresh here by charismatic performances from the film's young leads. Lerman, the puppyish D'Artagnan in last year's The Three Musketeers, convincingly negotiates his character's highs and lows; Miller, so good as the murderous teenager in We Need to Talk About Kevin, is entrancing as the flamboyantly eccentric Patrick; and Watson makes Sam a worthy crush-object for Charlie and also pulls off a credible American accent, though she hasn't quite shaken off the innocence of her Hogwarts years and her character's past as a sexy wild child isn't entirely persuasive.
Charlie's past also jars slightly. Adolescence is surely a troubling enough rite of passage in itself without all the childhood trauma (dead friend, dead aunt and repressed secrets) Chbosky piles onto his unfortunately protagonist.
Where Chbosky does score, though, is in conveying the joyful release teenagers feel on finding themselves and finding their soul-mate peers - something his characters do with the aid of the emotional touchstones provided by British post-punk classics such as Bowie's 'Heroes', The Smiths' 'Asleep' and The Cocteau Twins' 'Pearly-Dewdrops' Drops'. Charlie, Sam and Patrick are a captivating trio; their good taste in music only makes them even more winning.
In cinemas from Wednesday 3rd October.
Get the latest updates, reviews and unmissable series to watch and more!
Thank you for signing up to Whattowatch. You will receive a verification email shortly.
There was a problem. Please refresh the page and try again.