Snow White and the Huntsman | Kristen Stewart sulks while Charlize Theron steals the show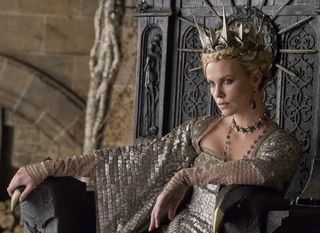 The Fairytale is Over.
Following hard on the heels of Mirror Mirror, Snow White and the Huntsman couldn't be more different in its approach to the classic Brothers Grimm fairy tale.
Where Mirror Mirror proved to be glossy and tongue in cheek, Snow White and the Huntsman attempts to be gritty and serious. More than this, it wants to turn Snow White herself from damsel in distress into a kick-ass action-movie heroine.
So Snow White, played by Twilight star Kristen Stewart, stages a plucky escape from the tower where she's been languishing ever since evil sorceress Ravenna (Charlize Theron) married and murdered her father. She flees to the Dark Forest, but Ravenna dispatches Chris Hemsworth's grief-stricken, drink-sodden widowed huntsman after her. He has a change of heart, though, and throws in his lot with her, as do the tale's dwarfs (eight of them, confusingly), for a rip-roaring assault on the queen's castle.
First-time film director Rupert Sanders made his mark as an ad man and so it's hardly a surprise that he should be good with images and less sure-footed with actors.
Stewart, almost as glum here as in the Twilight films, fails to strike romantic sparks either with Hemsworth's hero nor with Sam Claflin's aristocratic childhood friend, the third point in the story's would-be love triangle.
Stunning and spooky
The dwarfs, played by a clutch of digitally-shrunken British thesps, including Bob Hoskins, Ray Winstone, Ian McShane, Nick Frost and Eddie Marsan, make some half-hearted stabs at comic relief but aren't particularly funny.
Theron, looking fabulous in Colleen Atwood's gorgeous costumes, fortunately makes a much bigger impression. As a tortured soul for whom beauty is power, she pulls out all the stops, but Sanders doesn't know when to rein her in and some of her scenes tip over into ranting. Still, the scenes where she transforms into a burst of ravens or emerges from a sticky, tar-like puddle on the floor are stunning and spooky.
On general release from Wednesday 30th May.
https://www.youtube.com/watch?v=55Dq2psogSw
Get the latest updates, reviews and unmissable series to watch and more!
Thank you for signing up to Whattowatch. You will receive a verification email shortly.
There was a problem. Please refresh the page and try again.