Spacewalker | Gripping Cold War tale behind the first ever spacewalk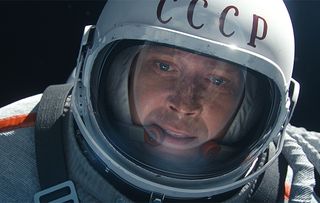 (Image credit: © 2017 Bazelevs, Mirsand Ltd. U)
'Moscow, we have a problem.'
The Russian equivalent of Apollo 13, the gripping adventure film Spacewalker (aka Spacewalk) chronicles the Soviet Union's touch-and-go efforts to achieve the first ever spacewalk.
It's 1965: the height of the Space Race and the Cold War, and the endeavour really is seat-of-the-pants stuff. Gung-ho cosmonaut Alexey Leonov and his more sober co-pilot Pavel Belyayev have to contend with dodgy airlocks, decompression sickness, oxygen toxicity and wonky re-entry rockets.
Most perilous of all, their spacesuits are cumbersome and inflexible, while the apparatchiks down below are equally unbending. The mishaps and near disasters go on and on, making this a thrillingly nerve-wracking watch.
Certificate 12. Runtime 140 mins. Director Dmitriy Kiselev
Spacewalker (Vremya pervykh) available on DVD & Digital from Signature Entertainment.
https://www.youtube.com/watch?v=F1hJI_HlDJA
Get the latest updates, reviews and unmissable series to watch and more!
Thank you for signing up to Whattowatch. You will receive a verification email shortly.
There was a problem. Please refresh the page and try again.