The Love Witch (2016) | Be prepared to be seduced by the deliciously vivid horror comedy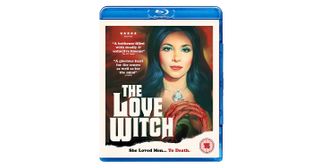 Anna Biller's feminist horror comedy about a beautiful young sorceress searching for her ideal man heads to Blu-ray on Monday 13 March
Anna Biller directs this comedy horror starring Samantha Robinson, Jeffrey Vincent Parise and Laura Waddell which pays homage to the Technicolor thrillers of the 1960s and 70s to explore the sensuous exploits of an ultimate femme fatale, a witch capable of seducing and murdering men through magic.
A young and beautiful witch named Elaine (Robinson) uses her magic to devise spells and craft concoctions which will grant her what she desires: a man who loves her. Inconveniently however, her creations work too well and every man she seduces ends up dead. She finally finds the perfect man for her, but her willful desire to feel loved may send her over the edge and into a heady brew of passion, madness and death.
READ MORE HERE… (opens in new tab)
The Icon Entertainment UK Blu-ray (opens in new tab) release includes… • Behind the scenes with Writer and Director Anna Biller • Interview with Cinematographer M. David Mullen • Deleted & Alternate Scenes • Extended Scenes • Samantha Robinson Dance Audition • Theatrical Trailer
https://www.youtube.com/watch?v=F4DoZlT7KSE
Thank you for signing up to Whattowatch. You will receive a verification email shortly.
There was a problem. Please refresh the page and try again.