John Sessions: 'Sherlock creator is my hero!'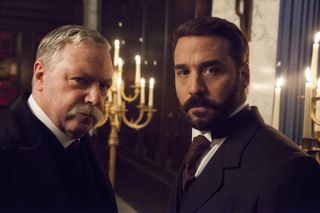 Well-loved comedian, TV personality and actor John Sessions will be starring as legendary Sherlock Holmes creator Sir Arthur Conan Doyle in this week's episode of Mr Selfridge. We caught up with him to talk about playing one of his heroes...
Have you always been a big Sherlock Holmes fan?
"I'm absolutely nuts about him! I actually appeared on an episode of Mastermind a couple of years back and my specialist subject was Sherlock Holmes - and I won!"
Is this the first time you've appeared in a Sherlock Holmes-related drama?
"It's not even the first time I've played Sir Arthur Conan Doyle to be honest. I played him in a radio play up in Scotland a few years ago. In 2001, I also had a part in Murder Rooms, a drama about Sir Arthur's mentor Dr Joseph Bell. He was a real-life figure who used rational thought to solve mysteries and many people believe he was the inspiration for Holmes. I even got a part in the first series of Sherlock!"
That must have been great fun!
"Yes it was, but I wish I'd turned it down so that I could have got a bigger part now! I'm a huge fan of the show and I just hope that Benedict Cumberbatch and Martin Freeman have time to keep doing them. They've become such big stars now and they deserve every last bit of that success, it was such fun working with them."
So is there no chance of getting another part in the new series?
"I may go to the producers on my hands and knees and beg them for a part. Keep your fingers crossed for me!"
In your episode of Mr Selfridge, Harry and Sir Arthur become quite good friends. Was that what actually happened?
"I believe so. Them having lunch together then was pretty much the same as Tom Cruise and David Beckham watching a basketball match together nowadays. They were both big celebrities in their day and the early 1900s was when we started to see the beginning of the celebrity culture that we're familiar with these days. It's the fame club. Famous people going out with each other and congratulating each other on being so famous!"
Sir Arthur and Harry take part in a séance in this episode. Was Sir Arthur a big spiritualist?
"Yes he was. Conan Doyle was very spiritual and believed in the afterlife, which is a bit ironic really, because he created the most famous fictional rationalist in the world. Holmes only fills his mind with things that are relevant to his investigative life and he's deeply rational - yet Sir Arthur believed in spirits and all that baloney. It's a bit strange."
Did you feel extra pressure playing someone from history you admired so much?
"Not really. To be honest it was wonderful to play one of my all-time heroes. I'm very old now so I look like him as well. Once they gave me my waistcoat and put that little moustache on me I looked in the mirror and I was Conan Doyle. It was brilliant!"
What's your favourite Sherlock Holmes story?
"That's a tough question, but I'd have to say the The Devil's Foot. It's about a man who poisons his siblings with a poisonous root from Africa. It's a cracker."
John Sessions appears in Mr Selfridge on Sunday February 17 at 9pm on ITV.
Sean has been writing about all things telly for over 10 years and in that time he's been lucky enough to interview stars like Ian McKellen, Tom Hardy and Kate Winslet. His favourite shows are The Great British Bake-Off, People Just Do Nothing and Succession and in his spare time he enjoys drinking tea, doing crosswords and watching football.
Get the latest updates, reviews and unmissable series to watch and more!
Thank you for signing up to Whattowatch. You will receive a verification email shortly.
There was a problem. Please refresh the page and try again.