Mr Selfridge ends with no wedding - but a lot of love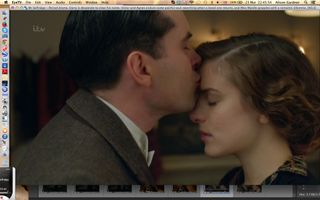 The millions of fans tuning in to the final episode of series two of Mr Selfridge (opens in new tab) would have been hoping to see a wedding, as it looked very much like Agnes Towler (Aisling Loftus (opens in new tab)) was going to marry Victor Colleano (Trystan Gravelle).
And they would have been hoping not to see a funeral, as it was very clear that Rose Selfridge (Frances O'Connor) was not at all well.
In the end, they saw neither.
Victor saw that Agnes's heart belonged to Henri Leclair (Gregory Fitoussi (opens in new tab)), kissed her on her forehead, and stepped aside.
"The you I fell in love with is the you I can't have. I would never have all of your heart. We both know who does. Go to Henri. Tell him you love him."
And that's exactly what Agnes did.
But she caught up with Henri just before he left to join the French army and fight in the war.
"When I come back, I'll never leave you again," Henri promised Agnes.
That's a big promise for a soldier to make.
Fans are going to have to hope Henri survives the war and returns in series three so they can have that wedding.
Sadly, it was made very clear that Rose won't survive her illness.
That won't have been a surprise to viewers, as the bad news was more heavily signposted than the M25.
It was an awful shock for husband Harry Selfridge (Jeremy Piven), though.
He was on a high because, with the help of Lady Mae Loxley (Katherine Kelly), Harry had exposed Lord Loxley (Aidan McArdle) as a liar and a cheat.
Rose broke the news of her terminal illness to Harry just before their big family Thanksgiving dinner. So the poor man had to choke down his meal, knowing his wife is dying.
As their unsuspecting family sat around the table and gleefully gave thanks for their trouble-free lives, Rose said: "I give thanks for all the years of happiness that I have enjoyed with you, Harry, and with my family."
Harry replied: "I give thanks for the simple, most important things: my family, my friends, my beloved wife and I give thanks for this moment in time, which I shall cherish for ever."
Will Rose still be alive in series three? Will Henri return to Agnes?
Or will that wedding have to be between another couple… Florian Dupont (Oliver Farnworth) and Josie Mardle (Amanda Abbington), maybe? Oh, yes. Josie finally decided to give convention the kiss off and made Florian a very happy toy boy.
Series three will screen next year.
Get the latest updates, reviews and unmissable series to watch and more!
Thank you for signing up to Whattowatch. You will receive a verification email shortly.
There was a problem. Please refresh the page and try again.