'I dance around in my pants before the ceremony!' says National TV Awards host Dermot O'Leary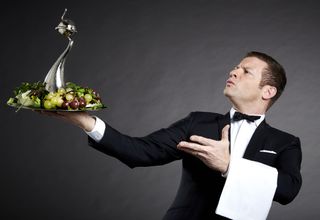 It's been another fantastic year of TV and the competition at this year's National Television Awards will be tighter than ever next Wednesday (ITV).
We caught up with host Dermot O'Leary to find out what he's enjoyed on TV, whether he's missed the X Factor and what he does for luck before the ceremony!
What a year of TV we've had…

"Not for me because I haven't been on it! I've had a lovely year though."
What have you been watching this year?

" I love documentaries and drama, so I've been catching up with those to be honest. You've only got five or six shows you can be married to and emotionally invest in at one time, so it's difficult to see everything because there's so much quality! "
What dramas have you especially enjoyed this year?

" I absolutely loved Poldark, although everyone always assumes my wife makes me watch it with her! Weirdly it's more mine than hers! She's not a massive historical drama fan, but I really enjoy it. I thought it was brilliant. I'm an utter fangirl when it comes to Poldark, so pleased it's coming back… "
What about Suranne Jones in Doctor Foster?

" Doctor Foster was annoying, because I saw the first one and then I went away so I'm still on the 'she finds a hair episode', but I sort of know what's going to happen. Suranne Jones is incredible. I loved Humans on Channel 4 as well, that was a brilliant series. "
Do you think the quality of TV goes up every year?

"There's no doubt about it, ITV, BBC and C4 have really upped their game and there's so much good stuff on that you just don't have time! "
What do you think it is about Poldark that really caught the public's attention?

" There's a legacy with Poldark. People are brought up with their parents watching that show and it was a piece of literature. It was scheduled against the Russell Tovey show, Banished, which I thought was brilliant, but got cancelled. Brilliant cast and it got canned, which I was gutted about because I really bought into it! "
There are some new categories this year, including Best New Drama…

" Yes and I'm really pleased, because there are so many great shows that have just missed out in the past. I'd even go with an extra one for supporting actor and actress, because there's so much quality out there. "
It will make the ceremony a bit longer though!

" Yeah you're right, maybe it's not such a good idea! Two and half hours… baby! It's a long show. "
What's your secret for getting through the show?

" Adrenaline really – more adrenaline than talent! You get pumped up the night before and preparation of course, you prep for if stuff goes wrong. You take it seriously, but not too seriously. "
Do you get superstitious before the show?

" I always kiss the stage before I go on… not in a Pope way, but in a footballer way… and dance around in my pants a lot beforehand. Some people have a little drink before they go on, but I can't do that. "
This was your first year without doing The X Factor, did you miss it?

" I've been away in South Africa doing a new show called the Getaway Car so it's been different, my autumn isn't usually taken up from whale watching! Being in South Africa has sheltered me from having a regular London autumn! Or a British autumn, which I was sort of looking forward to – it's not a bad trade-off to have six weeks in Cape Town! "
Did you watch any of the series?

"No I didn't get a chance to, but Louis Walsh emailed me saying the ratings weren't so good and they must be missing us. "
Were you sad to see Downton Abbey finish this year?

" I hadn't watched any of the final series, so I had to watch the whole thing in one go so I could watch the Christmas episode. It was amazing! My wife and I only got back to Britain in mid-December so we had to do a lot of cram watching! I'll really miss Downton Abbey though… "
Billy Connolly is getting the special recognition award – are you a fan of his?

" I'm a massive fan of his since I was 10. I interviewed him for the first time a few years ago and it was fantastic to meet him. Really lovely warm man. It's a difficult one this, because we've been around for 20 years now and there are so many people you could honour every year. It's great to do this for someone who's been around for a while and I think there's an authenticity to that. He has such a good body of work, not only is he a fine comic, but he has a brilliant personality in terms of how he conveys a story on TV, as a fine actor. "
Last year Sheridan Smith was late and missed collecting her award…

" If I can do one plea to anyone appearing on the evening, please travel by boat! I don't know why we don't hire a boat and just get people down there because the traffic is always awful! Doing the show doesn't scare me, but when you're five minutes from going on air and you look out and there's an auditorium that's a third full – that's scary! "
Were you worried when you heard Sheridan was caught in traffic?

" Everyone was really calm apart from me. I was like, 'why are you being like that! Do something!' Then she turned up and she cried, but it was lovely moment! "
The NTAs will screen on ITV on Wednesday 20th January. You can vote for your favourite shows here http://www.nationaltvawards.com/vote
Get the latest updates, reviews and unmissable series to watch and more!
Thank you for signing up to Whattowatch. You will receive a verification email shortly.
There was a problem. Please refresh the page and try again.