Aaron and Tom kiss in Neighbours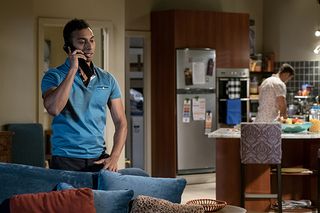 Aaron hasn't heard from his boyfriend Nate since he returned to the country, and assumes Nate has moved on. So Aaron is now enjoying the company of Tom Quill, who happens to be the son of the new boss of Lassiter's, Julie Quill.
Tom is concerned about opposition from the locals which could stop plans to redevelop Lassiter's and build a second hotel tower. He knows Aaron is working as an assistant for Sonya, the new Mayor of Erinsborough, and wonders if Aaron can help.
Aaron and Tom's romance starts heating up, after the pair enjoy a second date together. But how will Aaron react when Tom asks him to get hold of a list of the locals opposing the redevelopment of Lassiter's? Is Tom craftily mixing business with pleasure?
Tom has already made it clear he is interested in Aaron romantically, by sending him gifts. After their successful second date, the pair find themselves kissing back at the Brennan house.
Aaron is trying to put Nate behind him and appears smitten with Tom. But will he let his feelings cloud his professional judgement and risk his job by passing on confidential information to Tom? Find out if Aaron is tempted in Neighbours from Monday 14 March on Channel 5.
Thank you for signing up to Whattowatch. You will receive a verification email shortly.
There was a problem. Please refresh the page and try again.