'I couldn't work with people I didn't like!' says Neighbours star Mavournee Hazel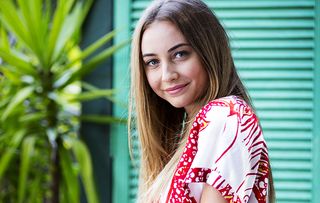 Luckily Aussie actress Mavournee Hazel, who plays Piper Willis, doesn't have to since she says her Neighbours cast mates are just like family to her!
It's three years since actress Mavournee Hazel first appeared in Neighbours as Piper Willis. The troubled teen has become one of the soap's best loved characters while Mavournee is now one of its most popular actresses – with the fans and her fellow Ramsay Street cast mates alike.
What's the story?
"We really are like a family," she tells Soaplife, "and one that gets on. I think on a show like this you have to have good chemistry with each other off screen as well as on or it would show when we're filming. You can't just turn it on and off. I can't imagine working with people I didn't like but fortunately I don't have to. Rebekah Elmaloglou who plays my mum Terese in Neighbours really is a bit like a mum to me. In fact, I call her ma even when we're not working."
Mavournee as Piper Willis and Rebekah Elmaloglou as Terese Willis in Neighbours
What's happening in Neighbours? See the latest soap storylines
Aussie actress Mavournee Hazel's chat with Soaplife about life in Ramsay Street…
Soaplife: What made you want to become an actress, Mavournee?
Mavournee Hazel: "It's just something I always wanted to do. From an early age, I asked to do acting classes, and was lucky enough to have supportive parents who encouraged that. I always loved playing outside, making other worlds, and then you reach a certain age and you can't do that anymore. But I kept wanting to do it, so I'm really grateful that I found acting. It allows you to be a kid and pretend everyday but in a socially sensible way."
S: How difficult was it to get into the business when you decided it's what you wanted to do?
MH: "It is difficult. Rejection is inevitable but you have to learn not to take it personally. I started out young and I started doing courses that I knew there would be casting agents linked to. I also knew that I would have to move to Sydney from my home in Adelaide. After six months of auditioning I got Neighbours and moved to Melbourne. At the end of the day you will get cast for who you are, and you will be right for a role eventually."
S: Did you have that feeling with Piper?
MH: "Yes. I know that sounds silly but some things are written for you. When I first read the script for Piper, I was like 'I know this girl. I know her and I have to do this role.'"
S: Are you still enjoying Neighbours as much as ever?
MH: "I love it, am very happy here and still learning so much."
S: So, no thoughts of leaving for Hollywood like so many Aussie actors do?
MH: "When it come to the future, I would really love to still work in Australia. I feel like a lot of Aussie actors hop up and leave and think that everything is in LA. There are great stories to be told here, and great directors, and companies doing such great things. I'd really love to do that. I'll always listen to my gut, because it's the only thing that won't ever lie to you. Right now, my gut is telling me not to go anywhere. So, I would love to be nurtured by Australia and the industry here. That's not to say I wouldn't go overseas but I'd have to be 100% prepared."
S: What's a typical day like for you when you're working?
MH: "I'm up at 5am in order to get to work early. Then I'm there till around 6pm. I try and get home in time to watch Neighbours, I eat dinner, learn my lines for the next day and then it's bed."
S: What's the best advice you've ever been given?
MH: "When I first started on Neighbours, Ariel Kaplan, who played my sister Imogen, told me, 'Comparison is not the thief of choice'. That's probably the best piece of advice I've been given. In this industry and at my age, everyone compares themselves to each other. You grow up and you're always told, 'Be yourself, be yourself because everyone else is taken'. It's more heightened in this industry."
S: What do you like doing when you're not working?
MH: "The same as most people I guess… Hanging out with friends, eating out, watching films…"
Catch Neighbours weekdays at 1:45pm and 5:30pm on Channel 5
Thank you for signing up to Whattowatch. You will receive a verification email shortly.
There was a problem. Please refresh the page and try again.