What's Courtney's secret service in Neighbours? Emma Lane reveals all!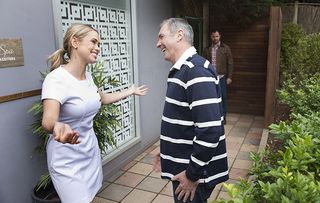 Emma Lane reveals to Soaplife how Neighbours' spa queen Courtney Grixti has Karl Kennedy and Shane Rebecchi desperate for a session with her! But it's not quite what several locals think it is…
Neighbours star Emma Lane has given an interview to Soaplife to reveal how Courtney becomes the centre of a lot of rude gossip!
What's the story?
Dr Karl Kennedy gets more than he bargained for when he turns up at Courtney Grixti's salon and accuses her of running a Botox clinic. "Courtney explains that, while she has embarked on a new line of treatments, it's not Botox," Emma Lane told Soaplife. "She then invites Karl to sample them and he happily accepts!" But the state of blissed-out Karl when he leaves the salon means Courtney has some explaining to do!
What's happening in Neighbours? See the latest Neighbours storylines
EMMA LANE'S SOAPLIFE INTERVIEW
Soaplife: So what is this treatment exactly?
EL: "I don't want to give too much away, but it's meditative, restorative and definitely relaxing."
S: Does Karl (Alan Fletcher) spread the word among the Erinsborough men?
EL: "Yes! He's very enthusiastic, but it's himself and Shane Rebecchi [Nicholas Coghlan] who soon become her most regular customers…"
S: Why is Courtney being so secretive about these 'treatments'?
EL: "It's not so much Courtney keeping it a secret, it's the perception of others about what is going on that creates this intrigue. Courtney's just being professional and not blabbing about her clients. Everyone else reads something negative into what's happening."
S: Karl and Shane's wives think Courtney is giving saucy massages! Are they right?
EL: "Courtney's oblivious to the gossip going on around about her. The massage treatment she's offering her gentlemen clients is not at all scandalous. Like I say, it's meditative, restorative and very relaxing."
S: But she does find out about the gossip…
EL: "Yes. Terese Willis confronts Courtney and she's completely blindsided and really hurt by all the rumours. She takes her work very seriously and she feels she's been nothing but professional."
S: What happens next?
EL: "Courtney leaves the salon in disgust and, later, Terese realises she's wrongly accused Courtney and tries to get her to come back. But Courtney now wants nothing to do with Terese or Lassiter's!"
S: She's not leaving Erinsborough, is she?
EL: "Only for a holiday to get away from all the drama. But this is the beginning of a whole other story: she catches up with Paul Robinson in the airport lounge and he has a plan!"
S: Will she try to get her own back on the gossips?
EL: "Courtney's not a vindictive person. But Terese did unjustly damage her reputation, so she may have something planned. Watch this space!"
Neighbours, Channel 5
Get the latest updates, reviews and unmissable series to watch and more!
Thank you for signing up to Whattowatch. You will receive a verification email shortly.
There was a problem. Please refresh the page and try again.