'Terese can't wed Gary hiding a big secret,' says Neighbours' Rebekah Elmaloglou…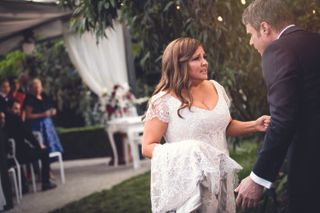 Terese Willis's guilt over sleeping with Paul Robinson may well ruin her big day in Neighbours, Rebekah Elmaloglou tells Soaplife
Terese Willis is supposed to be marrying Gary Canning. But will she choke out an 'I do' as she struggles with her betrayal? That's what Soaplife asks Rebeka Elmaloglou
What's the story?
One thing you shouldn't do before your wedding day is sleep with a man who's not your fiancé… But that's what Terese Willis has done. 'Her guilt about Paul Robinson is too much. Gary is a good man, she has betrayed his trust and she feels she can't start married life with a lie,' actress Rebekah Elmaloglou tells Soaplife. But has she also developed deep feelings for Paul?
What's happening in Neighbours? See the latest lines
Rebeka Elmaloglou's Soaplife interview
Soaplife: What are Terese's feelings for Gary and Paul?
Rebekah Elmaloglou: "Terese adores Gary, but she also feels a real connection with Paul. She's so conflicted and very confused."
S: Then Paul returns to Erinsborough shortly before the wedding…
RE: "And Terese has a dream in which she's positive he's come back to put a stop to the wedding. She still prepares to go ahead with the wedding, but then..."
S: Yes? What?
RE: "When she sees Gary standing there, clearly so excited about their future, it just kills her and she knows she can't go into the marriage hiding this enormous secret. She confesses and Gary is devastated – and then he's furious."
S: And it turns out Paul is now engaged to Courtney Grixti!
RE: "Terese is absolutely shocked to see Paul with Courtney… She never saw that coming and it shakes her to the core – even though she maintains she didn't call off the wedding because of Paul."
S: And Courtney is her new boss!
RE: "Terese is so disillusioned and things really couldn't get worse for her. She now has two new bosses, Paul and Courtney."
S: What does the future now hold for Terese?
RE: "Terese is a fighter, but the road ahead is a tough one. She's disappointed in herself and she knows she's disappointed those she loves – and now she has to contend with Courtney, too!"
Neighbours, Channel 5
Get the What to Watch Newsletter
The latest updates, reviews and unmissable series to watch and more!