Dodgy Finn collapses! Will he survive?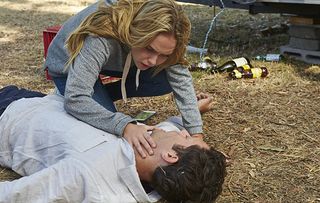 When Finn is confronted by Xanthe, he collapses!
Finn's doing all he can to get out of trouble and he's using Xanthe as his scapegoat for his evil deeds at Erinsborough High. This week, he tells police that Xanthe is to blame for everything, plants drugs in her bag so it looks as if she's the one who's been drugging Susan - and goes into hiding!
But karma is about to catch up with the dodgy teacher… When Xanthe tracks him down and confronts him, Finn collapses! Will she save him?
When Xanthe confronts Finn, he collapses!
When Xanthe confronts Finn, he collapses!
Xanthe is gobsmacked as Finn is arrested by the federal police.
Can Finn convince duped Xanthe that he's done nothing wrong?
Is Xanthe about to find out the truth about the dodgy teacher?
After the plane arrest, Finn tells the police it's all Xanthe's doing. Furious, she tracks him down to his hiding place at the caravan park.
Xanthe wants answers from Finn.
He tries to grab her phone and do away with incriminating evidence.
A scary tussle for Xanthe's mobile ensues…
Xanthe's stunned when Finn collapses to the ground!
Will Xanthe save Finn after all the trouble he's caused her and the school? Watch Neighbours on Channel 5 from Monday 19 June.
Get the What to Watch Newsletter
The latest updates, reviews and unmissable series to watch and more!