Leo Tanaka learns Amy is his sister in Neighbours!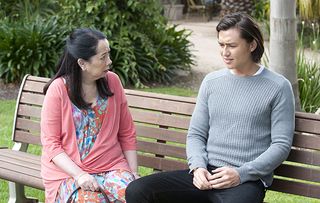 David and Leo find out Paul Robinson is their father. The shock is especially hard on Leo who was seeing Amy - his sister!
David is determined to find out who his father is once and for all and pushes his mum Kim to reveal the secret in Neighbours. He's stunned when Kim confesses it's Paul Robinson. It's a huge shock – including for Paul himself – but there's no time to waste, they must tell Leo, who's gone away on a romantic break with Amy. His 'date' is actually his sister!
The news sends Leo and Amy into a spin. With no possibility of a romantic future together, will their friendship survive? And will David and Leo be able to forge a relationship with Paul?
Leo and Amy are getting away from it all when they receive shock visitors…
The pair were hoping to get intimate together for the first time - but Kim and Paul's arrival puts paid to that.
Kim and Paul break the news to a stunned Leo and Kim that they're half brother and sister! Paul is Leo's dad, too.
Leo is hurt that his mum has kept such a big secret from him and David.
Kim tries to reach out to her son, knowing he's deeply hurt.
Can mother and son patch things up? And can Leo accept Paul as his dad? Watch Neighbours on Channel 5 from Monday, April 3.
Get the What to Watch Newsletter
The latest updates, reviews and unmissable series to watch and more!