Will Paul and Courtney get hitched as he gets serious Cold Feet?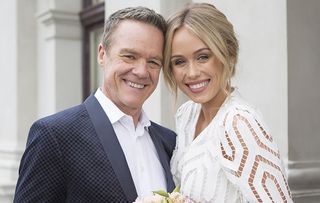 Paul gets cold feet as he prepares to wed eager Courtney
Paul and Courtney have decided to get hitched but when the big day comes, Paul is worried. He knows it's not right. Courtney urges him to get his kids involved, a decision she may live to regret when Amy tries to make sure her dad is getting married for the right reasons.
As Paul gets a serious case of cold feet, can Courtney persuade him to put a ring on it?
Will Paul and Courtney tie the knot?
Will Paul and Courtney tie the knot?
Susan Kennedy isn't sure about Paul and Courtney's plan to get married.
The couple is stunned when she reveals she's standing down as the celebrant at their upcoming nuptials.
On the wedding day, Amy learns from Leo that Paul is marrying Courtney to spite Terese, who has reunited with Gary.
Amy opens up a conversation with his dad about his decision.
Will Amy's words about marriage resonate with Paul and stop him from making a mistake?
As Paul and Courtney walk towards the court-house…
… Paul is getting seriously cold feet.
Can Courtney persuade him that getting married is a good idea?
Will their smiles stay on or are Paul and Courtney headed for Splitsville? Watch Neighbours on C5 from Monday 20th November.
Get the What to Watch Newsletter
The latest updates, reviews and unmissable series to watch and more!