Piper Willis and Xanthe are let loose with a tank on Neighbours!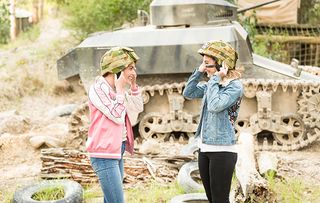 (Image credit: Jackson Finter)
Piper Willis and Xanthe get behind the wheel of a tank in a bid to cheer themselves up and get rid of their anger over recent sagas
Piper Willis is stunned when she learns Evan, Tyler's apprentice, is her troll, not Wayne as she suspected in Neighbours.
Knowing Piper has been through the wringer with the online abuse she's been subjected to, Xanthe takes her to an outdoor adventure park where the pair work through their anger and pain with the help of a tank!
Will the anger management leave Piper and Xanthe feeling restored?
Xanthe and Piper take to a tank to vent their rage!
Xanthe has noticed how down Piper is and has come up with an idea which could help cheer her up.
The much-needed outing comes soon after Piper learns her troll was Tyler's assistant Evan.
On Elly's advice, the girls head to an outdoor adventure park to try to lift their spirits.
It's smiles all round when the friends get behind the wheel of an army tank!
Xanthe and Piper prepare to take no prisoners in their mission to get rid of their bad vibes.
Will squashing an old car by running it over in a tank do the trick?
Splat! The tank makes light work of the car…
Piper's pleased to have her mind taken off the abuse she's been getting online.
The friends embrace each other, grateful for the experience they've just shared
Girls that drive tanks together, stay together. Will Piper get back to normal after a bit of anger management? Watch Neighbours on Channel 5 from Monday, July 31
Get the latest updates, reviews and unmissable series to watch and more!
Thank you for signing up to Whattowatch. You will receive a verification email shortly.
There was a problem. Please refresh the page and try again.