10 years ago in the soaps - EastEnders, Emmerdale and Coronation Street week starting 2 November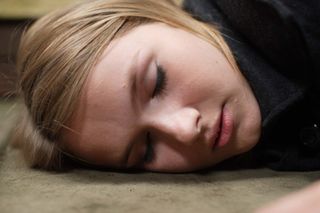 (Image credit: BBC)
Here is what was happening in EastEnders, Coronation Street and Emmerdale a decade ago...
From Lucy Beale being mugged in EastEnders, Tony Gordon having a heart attack in Coronation Street, and Emmerdale's David Metcalfe getting down on one knee to propose... here is what was happening in the soaps ten years ago this week.
EastEnders
Ian and Jane are busy looking into adopting a child because their kids are growing up too fast. However, just as Jane claims Lucy can look after herself, she walks in with Jay, having been mugged in broad daylight.
Although Jay is looking after his friend, no one knows it was actually him who mugged Lucy for her phone as she walked through the Square.
Lucy's head injury from being mugged by Jay left her with concussion and she is forced to go to hospital.
Jay feels awful about accidentally attacking his friend and makes a hasty retreat as Ian threatens to call the phone and find out where it is... not realising it was closer than he thinks and in Jay's pocket!
After making his exit, Jay throws the phone into the bin, desperate to get rid of the evidence he is Lucy's attacker.
After Peggy hears a noise in the barrel store, she goes to investigate... only for Archie, who is up to no good, hurriedly putting out flames and claiming that he saw kids running away from the scene.
But Peggy doesn't fall for his lies and when she finds Billy's wallet she is puzzled and calls Archie to The Vic.
Peggy claims that she thinks he's trying to frame Billy by planting the wallet and starting a fire, but when Archie pulls her closer instead of trying to escape, she leans in for a passionate kiss.
Also in EastEnders, across the Square Ricky is bemused when Archie compliments Sam after they have all had dinner together. It seems Archie is up to his old tricks again.
Emmerdale
Over in Emmerdale David gets down on one know in the Woolpack and proposes to Leyla, but is left devastated when she turns him down.
Leyla clearly isn't having a good week, because when she hands her registration in to Nathan Wylde, he laughs in her face.
Leyla doesn't take kindly to being laughed at and slaps Nathan. But he still isn't bothered and reminds her that he is the one who calls the shots.
Over at the Dingles Charity cooks a meal for her family, leaving Debbie pleased her mum is making an effort. But Cain isn't so happy and finds himself uneasy as Charity flirts with him.
Coronation Street
Michelle Connor is shocked when she hears a crash from the roof while she is in the bath, and hastily jumps out and wraps a towel around herself.
She is bemused when she then sees legs dangling from the roof outside the window, only to realise they belong to Jake Harman, the builder who was sent to fix the flat roof by Dev.
As she grabs Jake's legs Michelle pulls him through the window, only for her towel to fall, leaving her red-faced.
After a drink to calm his nerves Jake starts to lay on the charm before jumping in and kissing Michelle... but it seems his charm isn't going to work when she demands that he leaves.
Also, Maria is shocked to return to Coronation Street after visiting her parents only to discover Tony has had a heart attack.
He is taken to hospital by Roy, and later he confessed Liam's murder to him... knowledge that will later land Roy in danger.
Peter is also forced to tell Leanne that he can't get any equity from the bookies to buy the bar they had their heart set on.
Get the latest updates, reviews and unmissable series to watch and more!
Thank you for signing up to Whattowatch. You will receive a verification email shortly.
There was a problem. Please refresh the page and try again.