12 Brilliant TV Shows Coming This Autumn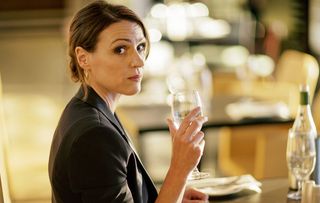 (Image credit: BBC/Drama Republic/Nick Briggs)
From Doctor Foster to a new Benedict Cumberbatch drama and Joanne Froggatt in Liar, we've selected the best TV for when the nights draw in
We might be in the middle of summer right now, but there's plenty of top-quality television waiting for us when the nights start drawing in. Here, we've picked 12 of the best new and returning UK dramas to keep us glued to the box this autumn.
Doctor Foster (BBC1) Expect more twists and turns in the second series of the psychological thriller starring Suranne Jones as GP Gemma Foster (pictured). The last series saw the doctor wreak vengeance on her husband Simon (Bertie Carvel) after discovering his affair with her young patient Kate Parks (Jodie Comer).
Penned once more by writer Mike Bartlett, the new five-part run picks up events two years on as Gemma and Simon continue to pick up the pieces from their acrimonious split and parent their teenage son Tom (Tom Taylor).
Peaky Blinders (BBC2) The last series of the superb drama ended with Cillian Murphy's Tommy Shelby watching on as all of his family were carted away by police, except for Tommy who had made a deal with 'people even more powerful than our enemies'.
Find out what's happened to the Midlands mobsters when the series returns for a fourth run, with the Shelby clan and their gang, the Peaky Blinders, under threat when Tommy receives a shocking letter that leads him to leave his lavish country home to return to the Birmingham back streets in order to fight for his family's survival. New faces this year include Game of Thrones star Aidan Gillen and Oscar-winner Adrien Brody.
Bancroft (ITV Encore) Broadchurch and W1A star Sarah Parish shows off her dark side in this powerful four-part drama. Parish plays popular but ruthless DCI Elizabeth Bancroft, whose life is turned upside down when her eager young colleague DS Katherine Stevens (Game of Thrones' Faye Marsay) reopens a cold case from the 1990s that Elizabeth would prefer to see unsolved. Adrian Edmondson, Linus Roache and Art Malik also star.
The Child in Time (BBC1) Benedict Cumberbatch stars in a tense adaptation of Ian McEwan's acclaimed 1987 novel. The one-off film, which is made by Cumberbatch's own production company, sees the Sherlock star play children's author Stephen Lewis, whose life has been in turmoil since his daughter disappeared two years ago. Kelly Macdonald co-stars as his estranged wife Julie and Stephen Campbell Moore and Saskia Reeves play their troubled friends Charles and Thelma.
Bounty Hunters (Sky1) Comedy star Jack Whitehall teams up with his Bad Education writing partner Freddy Syborn for this new action adventure. Whitehall plays uptight Barnaby Walker who's trying to revive his family's cash-strapped antiques business. When Barnaby unwittingly buys an antiquity that's been plundered from the war-torn Middle East, he calls on help from tough bounty hunter Nina, played by Hollywood star Rosie Perez (left), to return the statue and try to get his money back. My Family's Robert Lindsay joins them as Barnaby's father, as well as Doctor Who star Charity Wakefield.
Tin Star (Sky Atlantic) Tim Roth takes centre stage in the powerful 'British western' as Jim Worth, a former detective with the Metropolitan police who moves with his wife (Genevieve O'Reilly) and children to a small town in the Rocky Mountains to become its police chief. When an oil refinery opens nearby, the town is suddenly plagued by drugs, prostitution and organised crime, causing Jim to square up to the refinery's mysterious corporate liaison officer Mrs Bradshaw, played by Mad Men's Christina Hendricks.
Sicknote (Sky1) Harry Potter star Rupert Grint plays compulsive liar Daniel Glass, whose life changes forever when he is misdiagnosed with a terminal illness by useless doctor Ian Glennis (Nick Frost). Miami Vice star Don Johnson plays Daniel's boss Kenny, while a second series has been commissioned before the first series has even aired, and will see Lindsay Lohan play Kenny's daughter Katerina.
The Crown (Netflix) After an award-winning first series, the royal drama will return to explore the fall-out from the Suez Crisis in 1956, which resulted in the resignation of prime minister Anthony Eden. Meanwhile, Prince Philip's traumatic background is also explored, while the new run introduces photographer Anthony Armstrong-Jones (Matthew Goode), Princess Margaret's future husband, along with US President John F Kennedy (Dexter's Michael C Hall).
The Last Post (BBC1) Peter Moffat has drawn on his childhood memories for his latest drama set in mid-1960s Aden where a unit of Royal Military Police officers have been posted with their families. It's a dangerous job, with the officers in constant peril from insurgents, while rest and relaxation is provided by the glamorous BP Club where romantic intrigue is the order of the day. The starry cast includes Jessie Buckley, Ben Miles and Jessica Raine (pictured).
Innocent (ITV) Lee Ingleby takes the lead in this drama about prison inmate David, who's serving a life sentence for murdering his wife Tara, but who walks free on a technicality after a retrial. With Tara's sister Alice (Hermione Norris) still convinced of his guilt, will David be able to rebuild his former life and win back the custody of his two children, who are now living with Alice?
Liar (ITV) The Williams brothers, who wrote The Missing, have now penned this thought-provoking new thriller starring Joanne Froggatt as caring schoolteacher Laura who falls for charming surgeon Andrew (Ioan Gruffudd), the father of one of the teenage pupils at Laura's school. However, when a date night goes badly wrong, both of them have a very different take on what happened…
Gunpowder (BBC1) Game of Thrones star Kit Harington plays Robert Catesby, mastermind of the 1605 Gunpowder Plot, in a three-part mini-series about the notorious plan to blow up Parliament. Look out too for Mark Gatiss, Peter Mullan and Hollywood star Liv Tyler among the supporting cast.
Get the latest updates, reviews and unmissable series to watch and more!
As well as writing on sport and television for What to Watch, Richard McClure has contributed art and travel features for a wide variety of publications, including the Financial Times, The Guardian, and The Observer.
Thank you for signing up to Whattowatch. You will receive a verification email shortly.
There was a problem. Please refresh the page and try again.