7 things you didn't know about Chelsea Halfpenny - AKA Casualty's Alicia Munroe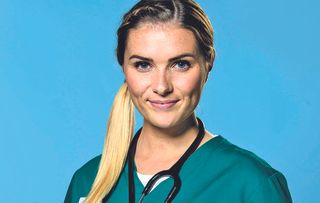 (Image credit: BBC1)
From tap dancing to famous family members - there's lots more to Chelsea Halfpenny than being in Casualty...
Chelsea Halfpenny found fame playing Emmerdale's Amy Wyatt between 2010 and 2013, before moving on to Saturday night medical drama Casualty where she won the hearts of the nation with her portrayal of doctor Alicia Munroe.
But as Chelsea leaves the role of Alicia behind on Saturday night (19th January) as her alter ego bids goodbye to her friends at Holby ED, we thought it was time to find out more about the actress behind the medical jargon...
1. She wants to work with her famous aunty
Chelsea's aunt is actress Jill Halfpenny of EastEnders and Strictly Come dancing fame. Jill played Rebecca Hopkins in Coronation Street, Kate Mitchell in EastEnders, and was crowned Strictly champion in 2004 with professional partner Darren Bennett - and Chelsea told us she would love to work with her aunty one day. "We haven't worked together, but I'd love to at some point because we know each other so well. You can't beat chemistry like that."
2. Chelsea Halfpenny wouldn't rule out an appearance in Strictly
Despite the fact her aunty might be a Strictly winner, Chelsea has revealed she isn't a natural dancer. But that doesn't means she would turn down an offer to appear on the dance competition. She told Soaplife: "Never say never but I'm no Aunty Jill! I don't think I have inherited her dancing gene. I'm much heavier on my feet for a start. She's incredibly flexible and does Barre practise in her spare time. Compared to her, I'm rubbish!"
3. She's still in touch with her former Emmerdale co-stars
Despite having left her role as Emmerdale's Amy Wyatt back in 2013, Chelsea has confessed she is still close to her former work family. She told us: "I hang out with Isabel Hodgins (Victoria Barton) and also Laura Norton (Kerry Wyatt), they have become proper friends for life, as has Charlie Hardwick who played Val Pollard. I really miss everyone in Emmerdale."
4. She's been in Casualty before 
Before winning the hearts of the nation as Alicia, Chelsea appeared in an episode of Casualty back in 2004. "I got an episode off the back of the children's TV drama I was in, Byker Grove. I played a patient who had a broken leg and the props department made me a prosthetic because it had to look swollen. When I returned to Casualty in 2015, I asked the props people if they still had my fake leg, but they didn't. I was a bit gutted!"
5. She's not just an actress
As well as landing major roles on TV, Chelsea is also a brilliant singer! "Amanda Henderson, who plays Robyn in Casualty, and I do a few gigs locally," she told us last year. "There's a guy we know who runs a local cafe and we perform there every now and then. It's great fun and we don't take it too seriously."
6. She got a unusual leaving present from her Casualty co-stars
After playing Casualty's Alicia since 2015, Chelsea has left her role to take on new challenges. But her co-stars from the BBC1 show have made sure she won't forget them. She told us recently: "The cast got me a cushion with all their faces on it! I was also allowed to keep Alicia's lovely winter coats. I'm going to miss everyone and living in Cardiff, but I won't miss learning the medical jargon. It's not easy!"
7. She's taken on a surprising new challenge
Despite saying her aunty Jill is the dancer in the family, and not her, Chelsea told Radio Times last year that she has taken up tap dancing lessons. She told the magazine: "I felt like I work a lot and then just go home afterwards and go to bed, so I thought 'I'm going to do something for me'. They are adult tap classes just around the corner and we dance to Shania Twain. It's hilarious!"
Casualty, featuring Chelsea Halfpenny, airs Saturday night at 9.10pm on BBC1.
Picture credits: Main image: BBC - Photographer: Alistair Heap, Jill Halfpenny in Strictly: PA Archive/PA Images.
Get the latest updates, reviews and unmissable series to watch and more!
Thank you for signing up to Whattowatch. You will receive a verification email shortly.
There was a problem. Please refresh the page and try again.