7 things you didn't know about EastEnders' Katie Jarvis - AKA Hayley Slater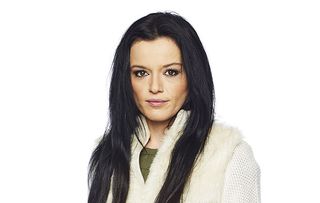 (Image credit: BBC / Nicky Johnston)
From becoming an accidental actress to an award-winning film star. Here's everything you need to know about Katie Jarvis...
Katie Jarvis has been wowing EastEnders fans with her portrayal of troubled new mum Hayley Slater since she arrived in Albert Square back in February this year. But while we're used to seeing Hayley's struggles every week on screen, where's some little-known facts about the talented actress…
1. She got into acting after meeting a stranger on a train
After leaving school at 16, becoming an actress was just a far-fetched dream for Katie. But all that changed after she had a row with her boyfriend across opposite platforms of Tilbury station in Essex.
After she got off the train in Upminster, a woman who had followed her from Tilbury came running up to her, claiming to be a casting agent for a director called Andrea Arnold. Three auditions later and Katie was cast as Mia Williams, the lead role in award-wining British film Fish Tank.
2. Katie Jarvis applied for a hair and beauty course
Before being "discovered" on a train platform, Katie dreamed of being an actress, but applied to do a hair and beauty course at college instead. With her mum also working as a hairdresser it seemed like the logical path to go down, but her heart wasn't really in it. Katie told The Guardian: "After finishing school I decided I needed to start sorting my life out and applied for a beauty course. What my job would have been at the end of it, I don't really know!"
3. She's a mum of two
Katie has got two young children, 9-year-old Lillie Mae and 7-year-old Alfie, who she mentions on social media ever now and then. Like most parents, Katie's world revolves around her little ones, and she's even revealed to her Twitter followers that she's going to be taking a break from filming EastEnders over Christmas so she can treat her kids to a trip of a lifetime at Disneyland Paris.
4. She's a London girl at heart
It's not just Katie's alter-ego Hayley Slater who is born and bread in East London, Katie herself grew-up in Dagenham with her parents, Paul, a painter and decorator, and Tamara, a housewife, who divorced when she was 12. Katie also has three younger sisters, Charmaine, Jodie-May, and Beckie.
5. She's had a very impressive career
Before landing the role of Hayley Slater, Katie has enjoyed a brilliant career. Not only did she land her lead role in Fish Tank, which she won numerous awards for, she's also appeared in TV series Suspects, True Horror, 10 Minute Tales, and Two Graves, as well as short films I Was 3, Devil's Play and Ginger.
6. She has a surprising weakness for home furnishings!
When it comes to being a famous actress, you'd think that Katie would splash out on glamorous holidays and designer handbags, but instead she's just like the rest of us and instead gets excited by new bedding! She recently tweeted: "There's only one thing that's better than fresh bed linen, and that's crips new bed linen with some cheeky duck feather pillows and duvet to go with it." We couldn't agree more.
7. She nearly drowned when she was a child
Back in August Katie revealed on social media that she had to be saved from water after she found herself out of her depth in a pool at just eight years old. The actress shared a link teaching readers how to save someone who finds themselves in trouble in water. Thankfully for Katie her story ended well when a stranger realised what was happening and bravely jumped in and saved her life. Phew!
Picture credits: Main image - BBC / Nicky Johnston; Katie Jarvis pic: David Fisher/REX/Shutterstock
Get the latest updates, reviews and unmissable series to watch and more!
Thank you for signing up to Whattowatch. You will receive a verification email shortly.
There was a problem. Please refresh the page and try again.