8 shows that can fill that Line Of Duty hole in your life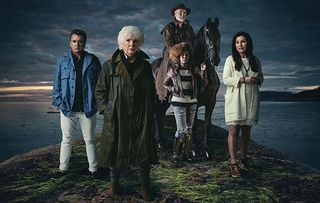 With Broadchurch finished and Line Of Duty ending in dramatic style, we've picked the best shows to fill the thriller void in your television schedule.
You might still be coming to terms with the Broadchurch finale which saw Trish's rapist revealed and struggling to comprehend everything that happened in the climax to Line Of Duty, but what will fill the void and satisfy our need for thrills now they've ended?
We've chosen the best whodunits currently on TV or coming soon...
1. Kat And Alfie: Redwater (pictured)
This BBC1 drama features EastEnders' actors Jessica Wallace and Shane Ritche in a Kat and Alfie spin-off. Some of Ireland's best acting talent, including Peter Campion and Angeline Ball, join the pair as Kat searches for her long lost son. EastEnders' fans might remember that Kat gave birth to twins, a boy and a girl, aged just 14 after being raped by her Uncle Harry. The residents of the picturesque Irish village Redwater are unwilling to share their secrets with Kat and Alfie... But will Kat find her son?
The six-part drama will premiere on 18 May at 8pm.
2. Fargo
Season three of Fargo will see Scottish actor Ewan McGregor star as not one, but two lead characters. Ewan plays brothers Emit and Ray Stussey. The character profiles reveal that Ray is the kind of guy who 'peaked in high school' while Emit is a man who sees himself as 'an American success story'. This series is set in 2010, the most modern of all the seasons so far.
Fargo is a comedy-crime drama anthology TV series inspired by the Oscar-winning 1996 film of the same name. The Emmy award-winning series from FX premiered its third series in the US on 19 April. Channel 4 have not yet confirmed the UK premiere date, but it will be on soon.
3. House of Cards
The popular political drama will return to Netflix on May 20 for its fifth series. Given the current political climate in America and across the world it's fair to say we are more prepared than ever to watch with gaping mouths the unfolding political chaos. The series will continue to track Frank (Kevin Spacey) and Claire's (Robin Wright) tumultuous political and personal lives.
4. Designated Survivor
You might already be following this American political drama, but if not it is definitely one to get involved with. The series shows on ABC in the US, but is also available on Netflix in the UK. Kiefer Sutherland stars as politician Tom Kirkman, who finds himself suddenly appointed President of the United States after a huge attack hits the US capital during the State of the Union address. The final episodes will be showing in early May.
5. Three Girls
Based on the true stories of victims of the Rochdale child abuse scandal this BBC drama is sure to be gripping. The show will explore how the girls were groomed, abused and then ignored by the authorities responsible for their protection. Maxine Peake and Lesley Sharp play two women who were crucial in getting the girls the help they needed and their voices heard. Nine men were convicted and sentenced for the abuse suffered by the girls from 2008 to 2012.
Three Girls is made by the same team as the multi-award winning BBC drama Five Daughters. It is a three-part series which will screen in May on BBC1.
6. Paula
This three-part BBC2 revenge thriller stars Olivier-award winning actress Denice Gough as a chemistry teacher who becomes trapped in a nightmare following a one-night stand with a handsome yet dangerous character. As their relationship unfolds it becomes clear only one of them can survive – their actions affect everyone around them. Fans of The Fall, in particular, will want to watch Paula.
7. Inspector George Gently
For the last time Martin Shaw will star as DCI Gently and Lee Ingleby will play Inspector Bacchus. Set in the 1970s the start of a new decade indicates an air of change, but what will the pair be faced with for the final series? Following a successful 10 years and 23 episodes, the BBC announced a final ninth series of Inspector George Gently in January. We can't reveal what is in store, but it promises to be thrilling. The series will screen in May on BBC1.
8. Twin Peaks
We are beyond thrilled to welcome back David Lynch's bizarre, but compelling thriller that peeks under the covers of smalltown America. But what will he do with the 90s cult classic? It jumps forward 25 years to present day Twin Peaks and if the bite-sized trailer is anything to go by, Special Agent Dale Cooper (Kyle Maclachlan) has been infected by the dark history of the town. Twin Peaks: The Return premieres on Sky Atlantic on May 22.
Get the latest updates, reviews and unmissable series to watch and more!
Thank you for signing up to Whattowatch. You will receive a verification email shortly.
There was a problem. Please refresh the page and try again.