8 Things TV Times would like to see in Grantchester 2017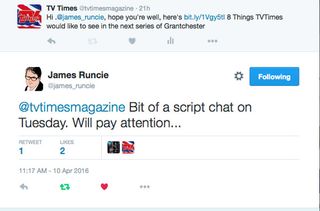 ITV has confirmed that Grantchester will return for a third series next year, and like millions of other fans, TV Times cannot wait. To help us all through the long wait we've put together our wish list of eight things we'd like to see happen next to Reverend Sidney Chambers (James Norton), Detective Inspector Geordie Keating (Robson Green) and friends....
Here's what Grantchester creator James Runcie had to say about our ideas:
1
Sidney to be the best Dad – ever!
With love of-his-life Amanda Hopkins (The A Word's Morven Christie) pregnant and separated from the father, obnoxious husband Guy (Tom Austen), it now seems only right that Sidney take on the role of Dad. He will be a brilliant parent, of course, but also upset the stuffier members of his congregation and wind up the permanently angry Guy.
2
More Mrs Geordie
We loved Kacey Ainsworth in EastEnders and we love her in this but her character Cathy Keating didn't get a lot of attention in this year's series. As Geordie's got something of a wandering eye maybe a gentleman admirer for Cathy might shake things up…
3
Less booze and fags!
Hardly a scene goes by without Sidney or Geordie downing a pint, knocking back a quick whiskey or sparking up a ciggie. We will not be happy if there's a tragic early death for the dreamy young cleric so just take it easy lads!
4
Sidney to biff Guy
Obviously, like Sidney, TV Times abhors violence but if it becomes necessary, in self defence, to put straight Amanda's hot-headed husband Guy we'd be happy to hold his dog collar...
5
Leonard to find true love
There's unlikely to be a more heartbreaking scene on TV this year than that in which Curate Leonard Finch (Al Weaver) was comforted by Sidney after he had been cast aside by an older but flighty man. We only hope better days are on their way for sweet Leonard.
6
Amanda to toughen up
We respect Amanda but… as the love of Sidney's life she can be a tad wet and dithery at times. Maybe she could find a Karate For New Mums class in the village or just hang around with thoroughly modern Margeret a bit more.
7
Margaret to become a proper copper
We love Margaret Ward (Seline Hizli) and the way in which she takes no rubbish from anyone, including "Saint" Sidney. The quick, lively civilian administrator could be a great crimebuster, and an interesting extra sidekick for Sidney.
8
More swimming
Crimes and misdemeanours are guaranteed in series three, but do remember to make time for exercise, Sidney…
Get the What to Watch Newsletter
The latest updates, reviews and unmissable series to watch and more!