A quick chat with Chris Addison (VIDEO)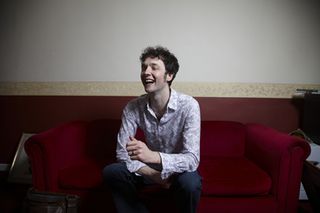 Chris Addison goes home to Manchester as Dave's One Night Stand returns. As One Night Stand, the Dave series in which stand-ups go back to their home towns to perform, returns for a second series, The Thick of It's Chris Addison kicks off proceedings at Manchester's Palace Theatre. TV&Satellite Week magazine joined him for a quick trip down Manc memory lane... The best thing about Manchester is that it's my home town... The worst thing is that I live about 180 miles from it. It isn't always raining in Manchester... We just say that to put people from the south off coming up there. But we Mancs do have the ability to turn our collar up against the wind using only the power of the mind. My first stand-up performance was greeted with total silence... It was in a pub in Manchester called the Frog and Bucket. Caroline Aherne and her then husband, Peter Hook from New Order, were there. All I can remember is his face, resting on his hand, as he stared at me through the silence looking like I'd murdered his nearest and dearest and he was biding his time before taking revenge... My absolute all-time favourite comic is Billy Connolly... He goes in and out of fashion, but he's never less than brilliant and sets the standard against which we stand-ups should all be measured. I haven't been mobbed by Skins fans since being cast as Professor Blood... We're never in the same place. They're 20 years younger than me and going to clubs, whereas I won't even go into a pub if all the seats are taken. I'm stuffed to the gunwhales with half-formed opinions based on pretty much nothing... For instance, to survive the recession, I believe you should invest in plastics. I don't really know what that means, but someone says it at the start of the Dustin Hoffman film The Graduate and it sounds plausible. Watch a clip from Dave Night Stand, which screens on Thursday, April 14:
Get the latest updates, reviews and unmissable series to watch and more!
Thank you for signing up to Whattowatch. You will receive a verification email shortly.
There was a problem. Please refresh the page and try again.