Aidan Turner says he finds it's difficult to watch Poldark because his accent 'slips'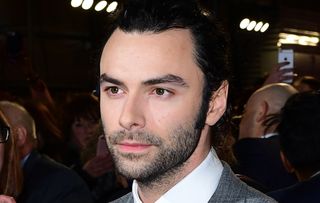 (Image credit: PA Wire/PA Images)
The star of BBC1's hit historical drama says he has never really mastered Poldark's posh British accent
Poldark star Aidan Turner has said his accent in the TV show is 'not always on point', making it difficult for him to watch it.
The Irish actor has played Cornish captain Ross Poldark in the BBC period drama since 2015, and will soon return to screens for the third series.
But after three years, 33-year-old Aidan has said he still struggles with Poldark's 'posh British accent', although he tries not to dwell on it.
He said: "It's like a posh British accent, received pronunciation kind of thing.
"It's not always on point, really. That's why it's quite difficult to watch sometimes, you hear it slipping quite a bit.
"I suppose it's not... it's my job and you get on with it. I don't think about it."
The actor has hinted that his fans may be set for disappointment when the new series screens in June, as he is unable to remember if he goes topless.
Famed for his heart-throb character stripping off in the first series while scything, and winning audiences over with his toned physique, Aidan said he thinks 'the clothes stay on this year'.
He added: "Maybe there's some topless sleeping… I don't know. I honestly, I swear to God I can't remember."
Aidan said he thinks his fans are trying to 'fatten him up' with edible gifts, and that he does not get sent 'weird stuff' from his admirers.
He said: "I get a lot of sweets and chocolate. I think people want to fatten me up or something.
"I get a lot of that and a lot of photographs of the people who are sending me the gifts and things like that, but people are very sweet.
"I don't get any weird stuff. Maybe it's vetted, maybe it goes through agents or something before it gets to me!"
Last year's series faced a challenge when it went directly up against ITV period drama Victoria in the autumn schedule, but this year it will screen much earlier in the summer, avoiding a clash.
Eleanor Tomlinson, who plays Poldark's wife Demelza, said the series does not 'need to compare' itself to other period shows.
She added: "I think if storylines are great and people have a love of the characters then I think that is why people will come back to Poldark."
Aidan said he believes Poldark's popularity could be due to it simply being an alternative to the litany of crime dramas currently on British TV.
https://youtu.be/QHxT_uKgzmU
"There's a lot of hard-hitting crime dramas and this seems like an antidote to those types of shows and obviously the Brits do it really well," he said.
The new series will follow on from the events of the last, which saw Elizabeth (Heida Reed) pregnant, although it was unclear if the father of her baby is former lover Poldark or her husband George Warleggan (Jack Farthing).
Poldark returns in June on BBC1.
Get the latest updates, reviews and unmissable series to watch and more!
Thank you for signing up to Whattowatch. You will receive a verification email shortly.
There was a problem. Please refresh the page and try again.