All American fans outraged by the shocking death of a beloved character
Viewers can't believe the show went in this shocking direction.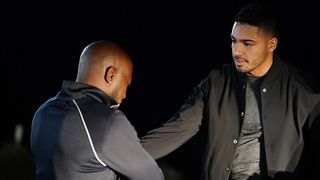 (Image credit: Troy Harvey/The CW)
Heading into the All American season 5 episode titled "Time" which aired on Monday, February 13, fans were anticipating seeing many things unfold. For starters, with Olivia's (Samantha Logan) recent confession that she wants Spencer (Daniel Ezra) back, many viewers thought they'd witness the two love birds finally get back on track after a rocky season 5.
Then there is Spencer's other complicated relationship with a member of the Baker family, Billy (Taye Diggs). Spencer has not exactly been thrilled that his former high school football coach has been keeping his GAU job offer a secret.
However, these two progressing storylines took a backseat in the new episode as other events took place. Not only was it revealed that Asher (Cody Christian) is expecting a baby and Billy has actually decided to stay a principal and coach at Crenshaw High School, but in a complete shocker to fans, one of the beloved show characters was killed off the series.
So here's what happened.
After a successful football combine held for the local high school students in the Los Angeles area, Billy and Asher found themselves on a school bus riding with the young players back to Crenshaw High School. As Billy was giving his former player advice on fatherhood, a tire on the bus suddenly blew and the driver was unable to control the vehicle. To make matters worse, this occurred on a winding road.
As Grace (Karimah Westbrook) and Jordan (Michael Evans Behling) arrived at the scene of the accident, they see the flipped bus, but they also spot Billy, Asher and most of the team. Then Billy notices that one player, Jabari, is nowhere to be found, and the former goes back on the vehicle to find him since emergency personnel has yet to arrive. Unfortunately, by this time, the bus is literally teetering on a cliff.
While viewers don't see what happens with Billy's rescue effort, Grace arrives at the Baker Beverly Hills home where everyone else is gathered and informs them that the patriarch of the group is gone. That's right, after five seasons on the show, Taye Diggs has exited All American as Billy Baker. Talk about an emotional curveball.
All American fans react to the death of Billy Baker
To say that fans of the show were upset is an understatement. Billy's surprise death left many viewers outraged and others sobbing in tears. Take a look at what they've been saying on Twitter.
All American season 5 continues to air on Mondays on The CW.
Get the What to Watch Newsletter
The latest updates, reviews and unmissable series to watch and more!
Terrell Smith has a diverse writing background having penned material for a wide array of clients including the federal government and Bravo television personalities. When he's not writing as Terrell, he's writing under his pseudonym Tavion Scott, creating scripts for his audio drama podcasts. Terrell is a huge fan of great storytelling when it comes to television and film. Some of his favorite shows include The Crown, WandaVision, Abbot Elementary and Godfather of Harlem. And a fun fact is he's completely dialed into the TLC 90 Day Fiancé universe.